AC Students Get $1 Million in Scholarship Checks
The Mayor Marty Small, Sr. Scholarship is part of a $3 million commitment through the next three years from the Addressing Educational Disparity category of the American Rescue Plan funds received from the federal government.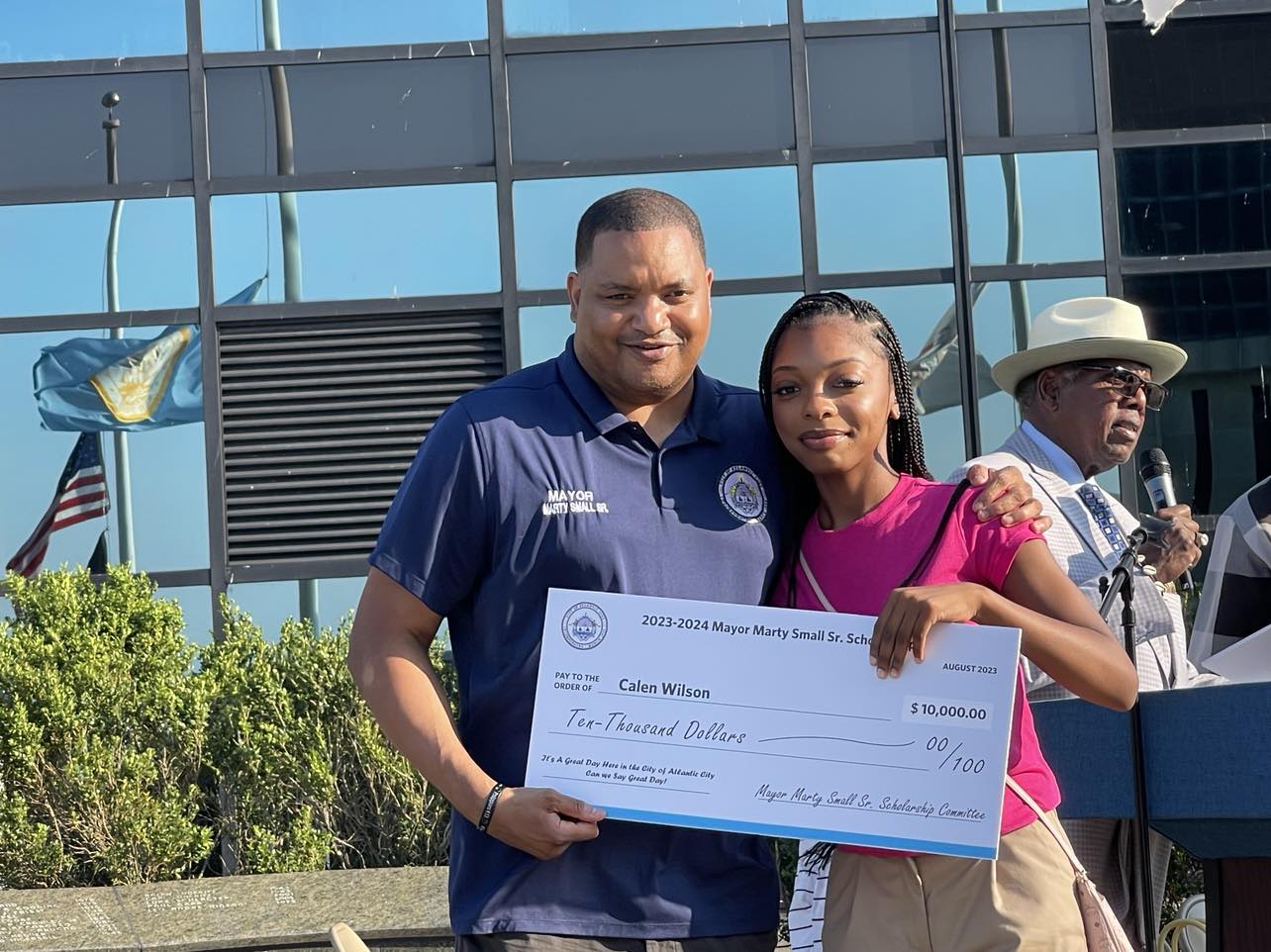 By Mark Tyler
ATLANTIC CITY—He gets a check.
And she gets a check.
And she gets a check.
And he gets a check.
College-bound students, who won Mayor Marty Small, Sr. Scholarship funds in June, received ceremonial $10,000 checks on Wednesday, Aug. 9, as some were preparing to go back to school and others to pursue higher education for the first time.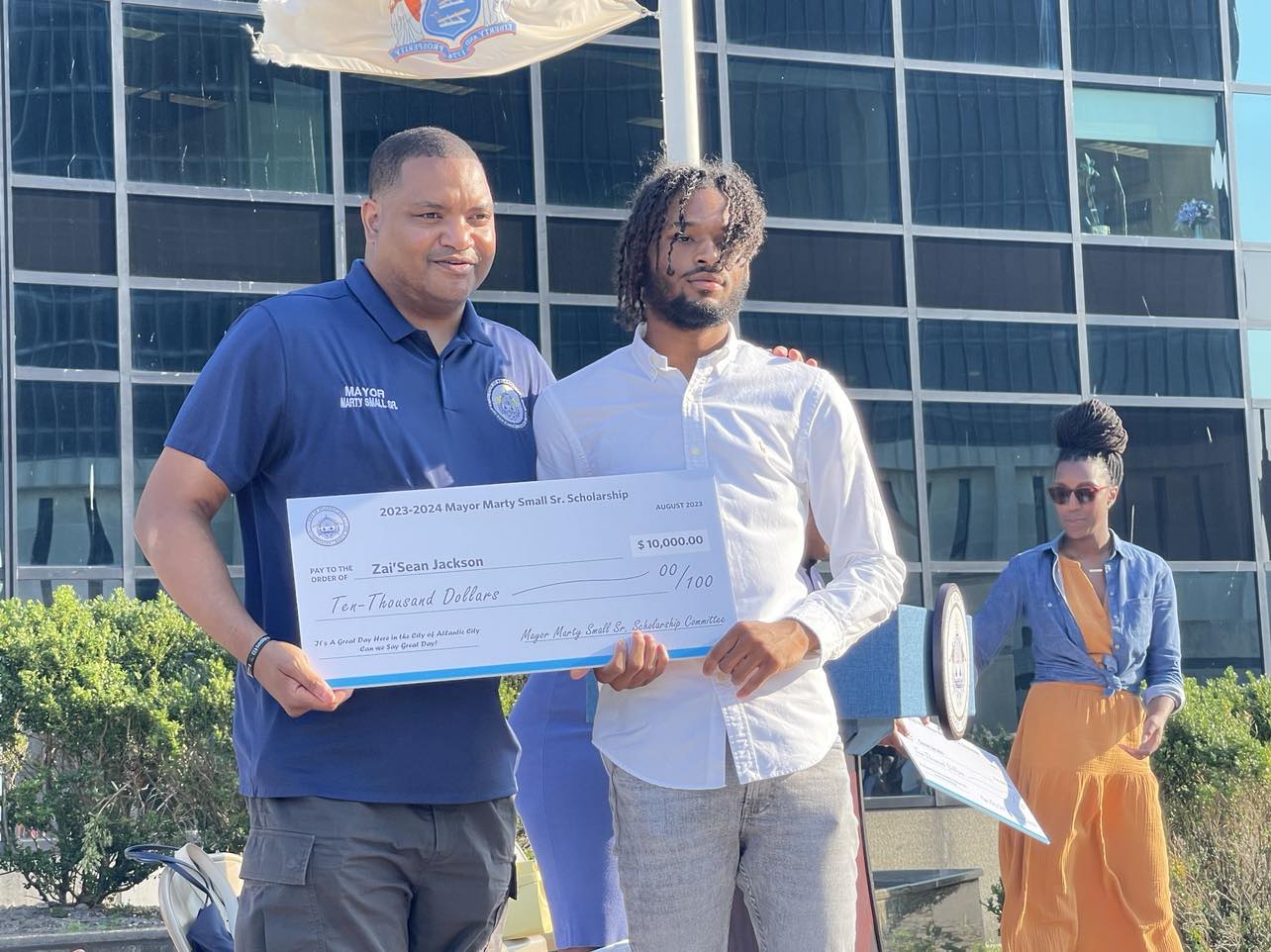 The actual funds will be sent to the students' respective colleges and universities to be used toward tuition, books, and student fees. But they received the big checks in a jovial celebration reminiscent of an outdoor graduation.
"We wish you the best of luck on your journey," Mayor Small told the students assembled in the courtyard between City Hall and the Atlantic County building on Bacharach Boulevard. "It's not easy, but don't ever give up. There's nothing that you can't overcome, trust me. I'm proud of each and every one of you, from the bottom of my heart."
The 5 p.m. ceremony was a hometown cookout-style event complete with hamburgers and hot dogs, prepared by members of the Atlantic City Fire Department and the Atlantic City Police Department.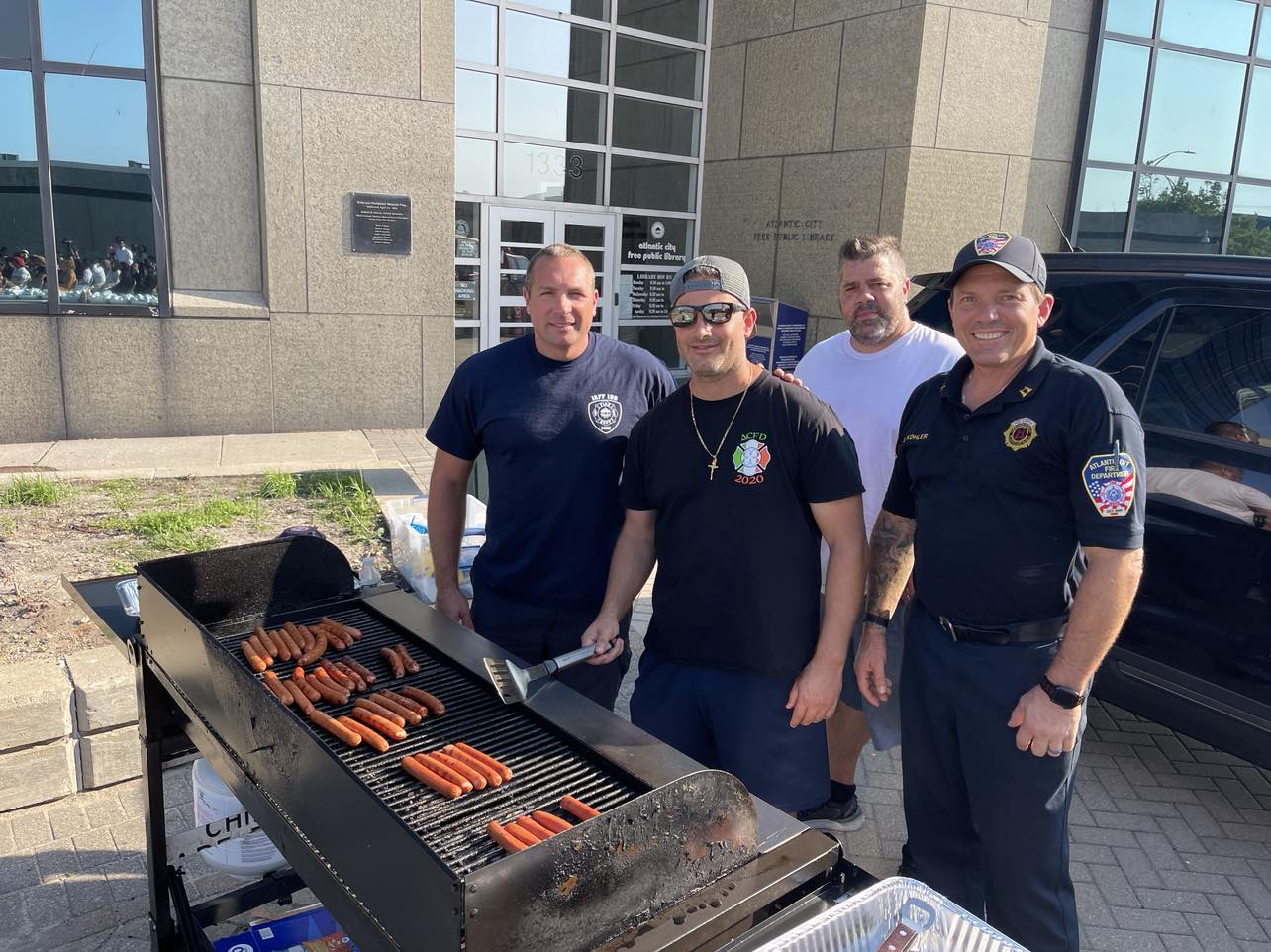 The wind whipped as flags flew at half-staff at the Atlantic County Police and Firefighters Memorial to "Fallen Heroes" where the ceremony podium was set up.
Many said the funds will make a significant impact in their lives.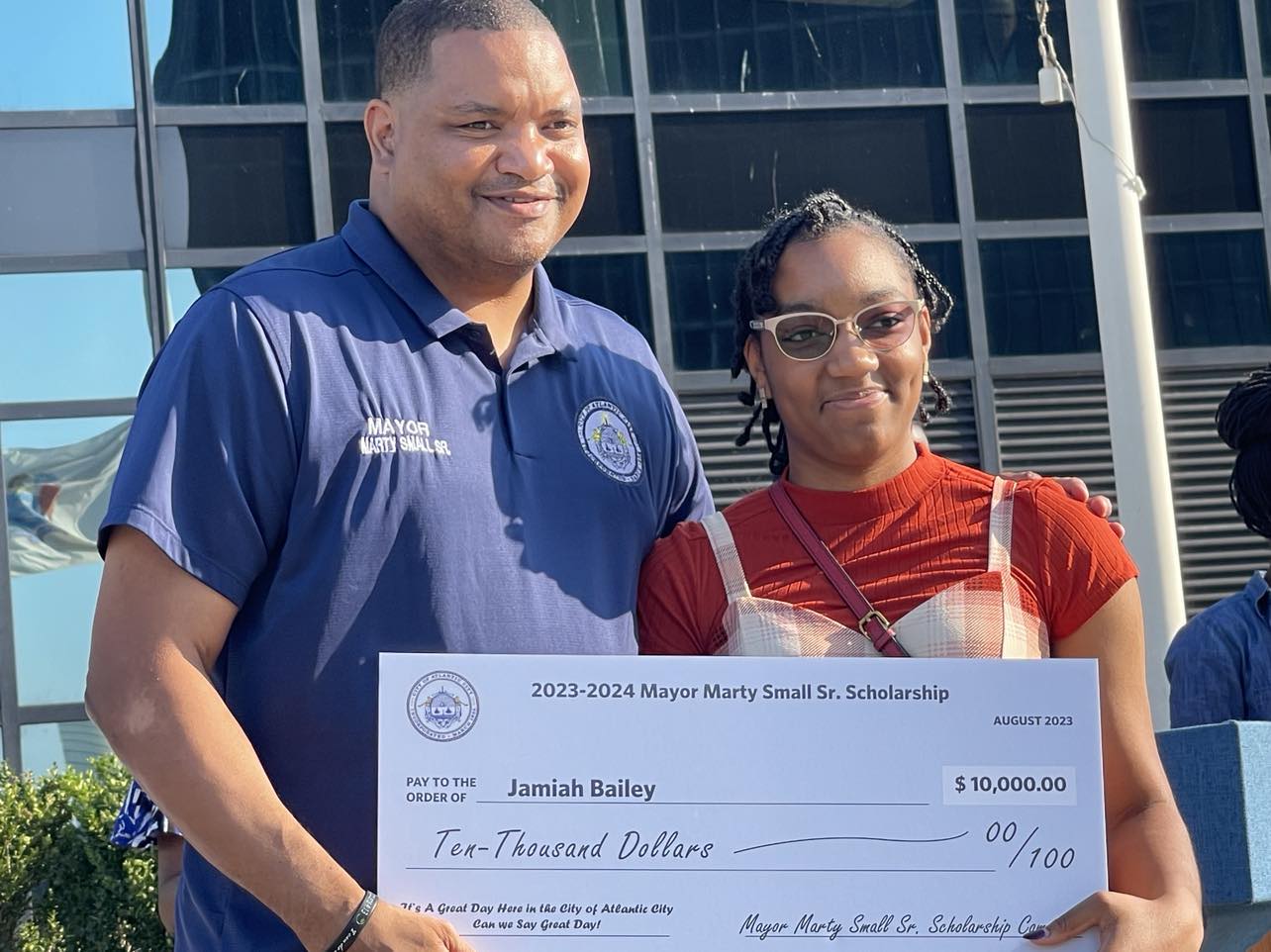 Jamiah Bailey graduated from Atlantic City High School in June. She will major in Languages and Culture Studies at Stockton University.
"My first two semesters are covered completely," said Bailey.
The first 50 scholarships of $10,000 each were given to high school seniors who graduated in June. Another 50 scholarships, also paid out in $5,000 increments per semester, were awarded to college students who previously graduated from Atlantic City High School and live in the resort. Those students are scheduled to be returning college sophomores, juniors, and seniors in the fall.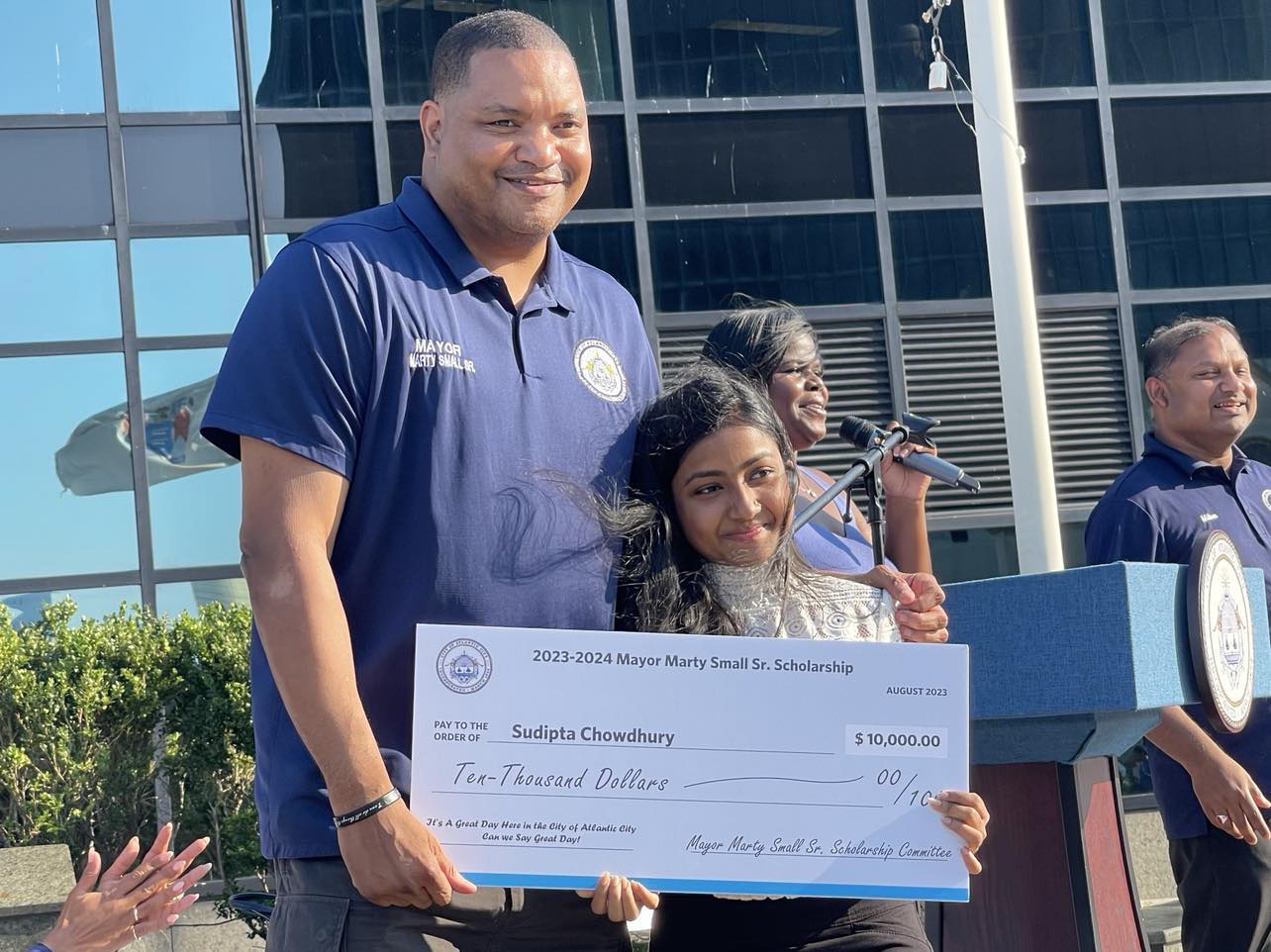 Sudipta Chowdhury is a Health Administration major at Rutgers University, New Brunswick.
"This is going to help me tremendously because I come from a low-income family," said Chowdhury. "Money has always been a headache and I've had to wonder if I can afford this or not. It's really a blessing."
Numarr Bundy, who plans to major in Public Health at Stockton, agreed.
"The scholarship is going to be a great assistance to help with my financial burden," said Bundy.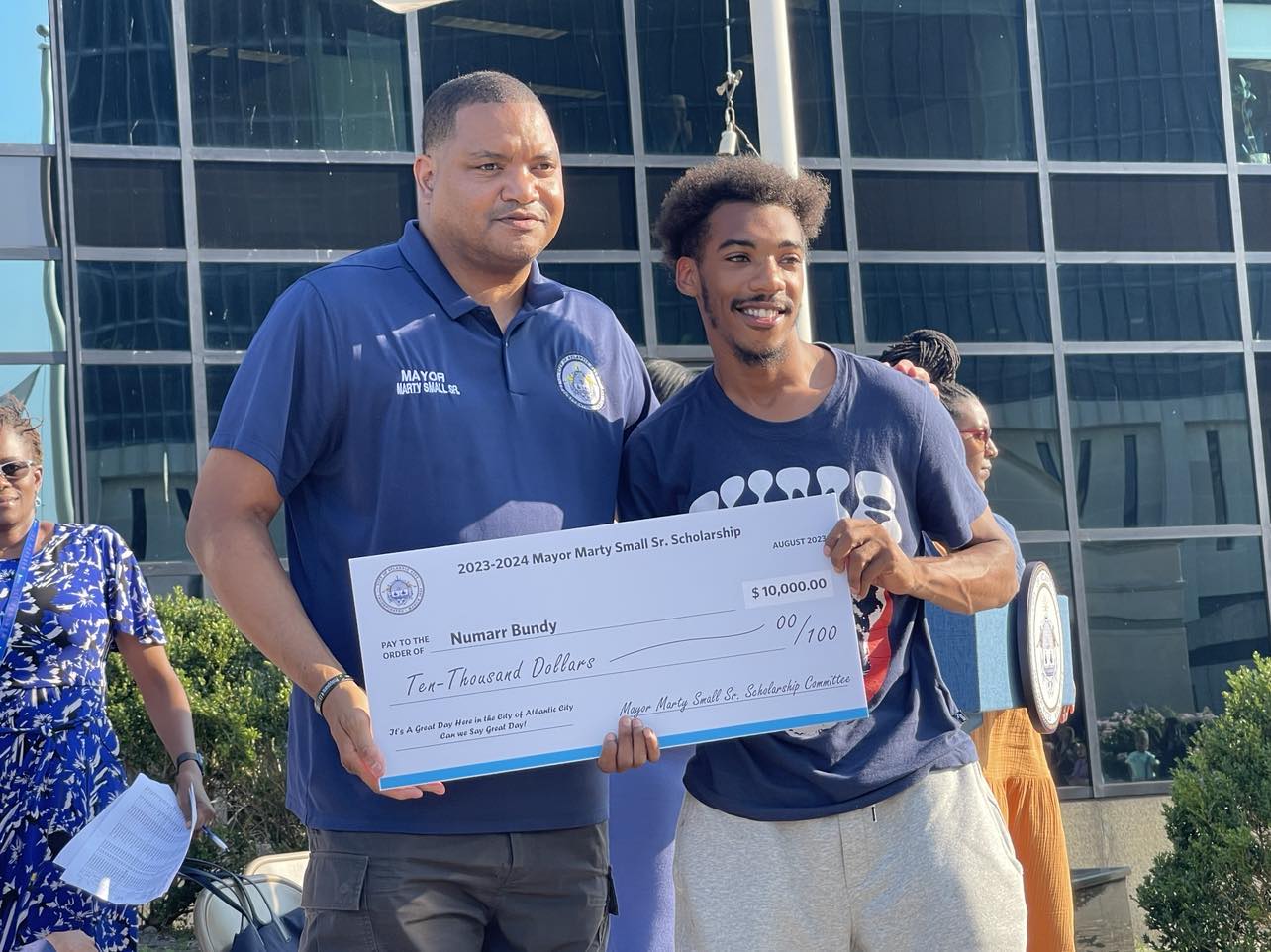 Bundy said he worked numerous summer jobs so he could go back to school and the scholarship gives him financial breathing room to get more involved in the community.
"Hopefully this will inspire others who look like me to do the same," Bundy said.
The students had to write an essay on how to continue to make it a great day in the City of Atlantic City and submit their resume. GPA wasn't part of the criteria.
The scholarship is part of a $3 million commitment through the next three years from the Addressing Educational Disparity category of the American Rescue Plan funds received from the federal government.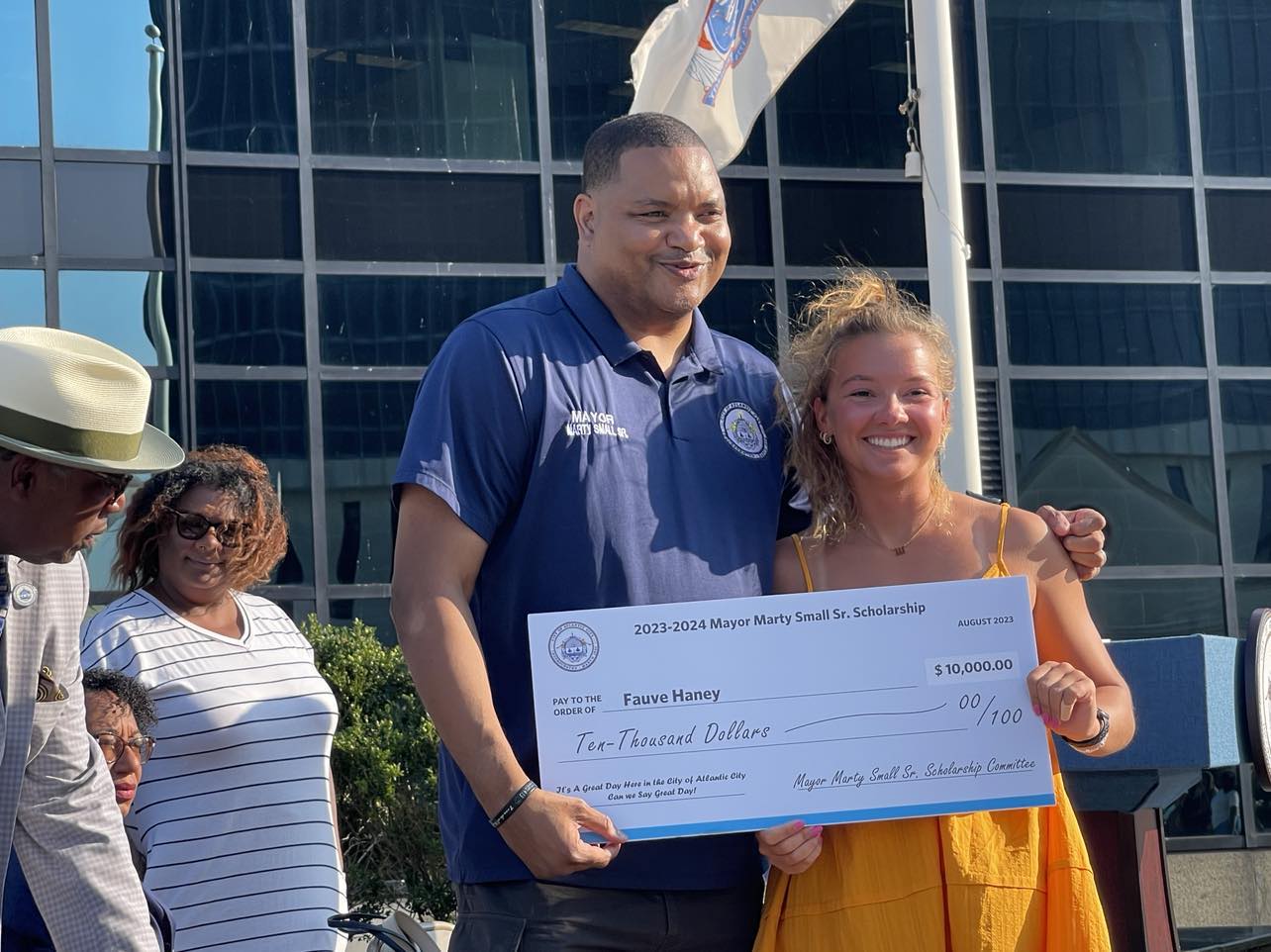 Fauve Haney is a senior at Rowan University. Her younger brother will graduate soon and be off to college himself. Her mother, Tamara Haney, said the $10,000 will go a long way.
"It's going to lift a huge financial burden." Tamara Haney said. "We have one coming out of college and one going in."
Scholarships were distributed to a diverse group of 100 students. Members of the scholarship committee, representative of every ward and community, offered encouragement and advice.
"Take your education seriously. It's the key to success and it's going to open a lot of doors for you," said Christina Noble, director of Youth Services for the City of Atlantic City. "I'm proud of you. I'm excited to see what you're going to do in the future."
Scholarship committee member Pam Fields reminded the students that they have an entire support system back at home.
"College is a wonderful experience," Fields said. "Just know that you're not alone and we're here for you."
Small said the scholarship program was designed to show the students that their city truly supports them.
"We know the struggles with college and finances, and we just wanted to make sure we did our part from the city that you grew up in, the high school that you believe in to make sure that we assisted you along the way," Small told the students. "Parents, children, we salute you. Congratulations."
---
Thanks for reading the whole story!
At Atlantic City Focus, we're committed to providing a platform where the diverse voices of our community can be heard, respected, and celebrated. As an independent online news platform, we rely on the support of readers like you to continue delivering quality, community journalism that matters. By donating today, you become a catalyst for change helping to amplify the authentic voices that might otherwise go unheard. And no contribution is too small, $5, even $1 is appreciated. Join us in making a difference—one uplifting story at a time!