Atlantic City High School Multi-Year Reunion Celebrates 70s, 80s and 90s
The reunion isn't limited to Vikings alumni and even welcomes graduates from the 1960s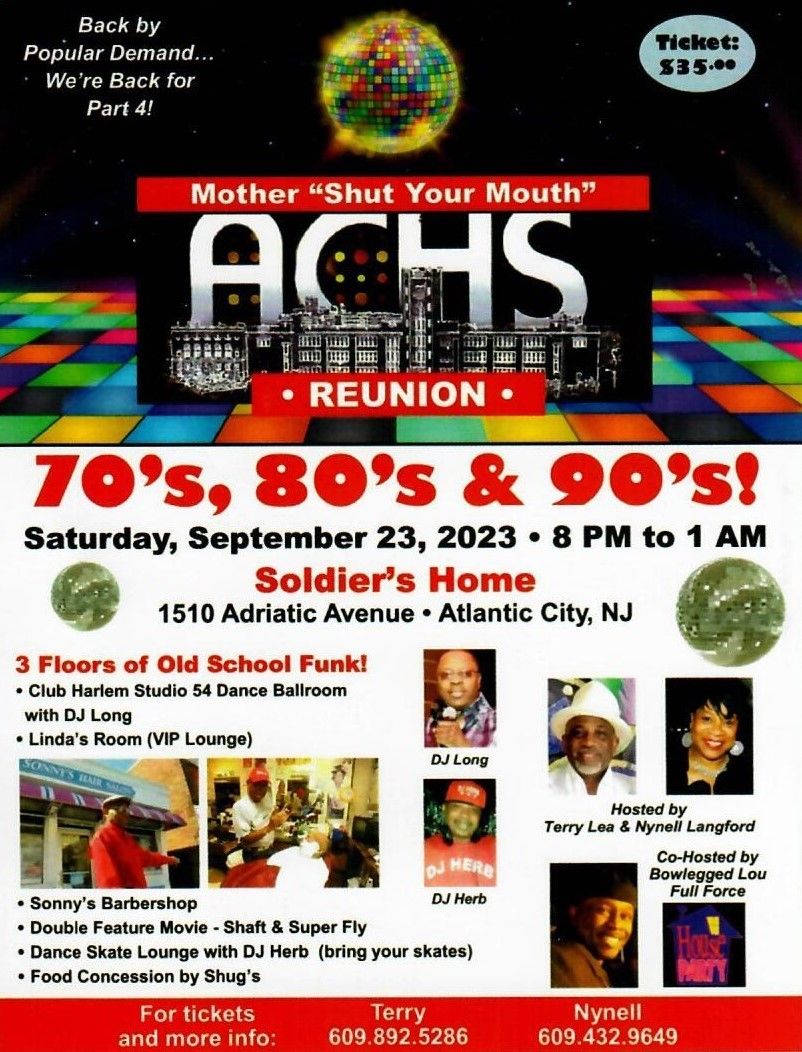 ATLANTIC CITY – If you graduated from Atlantic City High School in the 1970s, 80s or 90s, you probably don't want to miss the Mother "Shut Your Mouth" Reunion.
Nynell Langford and her brother Terry Lea are hosting three floors of old school funk at the Atlantic City Soldier's Home on Saturday, Sept. 23 from 8 p.m. to 1 a.m.
"It's a reunion of reunions," said Langford.
But it's not just for Vikings alumni. And it's not just for the 70s, 80s and 90s. People who graduated in the 1960s are welcome too. So are people who went to other schools.
"I don't want people to think that if you went to Absegami, or Oakcrest or Pleasantville you can't come," Langford said. "If you've got a pulse, you want to be here."
The first floor of the building will be a Club Harlem, Studio 54, Dance Ballroom with DJ Long. The VIP Lounge pays homage to Linda's Room, a beloved nightclub where many from the resort shared their coming-of-age stories.
"Linda's Room was one of the spots," Langford said. "I met my husband there before he was my husband."
Langford is married to former Atlantic City Mayor Lorenzo Langford.
The second floor will pay tribute to Langford's and Lea's father Sonny Lea, who owned Sonny's Barbershop on Kentucky Avenue.
"My dad was an Atlantic City icon," Langford said. "We recreate the barbershop."
Sonny's on the second floor will have everything from a life-size cutout of Sonny Lea, to his cape and the barber chairs. A Mike Tyson fight will even be playing in the shop. There will also be a movie theater on the second floor that will run a Shaft and Superfly double-feature.
The third floor will be set up as a skate lounge so people can bring their own roller skates for "a little casual skate, a little crisscross," Langford said.
Suge's Restaurant will sell entrees on-site. But people can bring their own food and alcohol as well.
Organizers Langford and Lea will host the party along with longtime friend Bowlegged Lou from the R&B group Full Force.
Langford and Lea held multi-decade reunions from 2017-2019. When the state essentially shut down at the height of COVID, the reunions were put on hold during 2020 and 2021.
"Last year we didn't think people were ready to be around 600 people," said Lea. "We just came to the conclusion in the last week of July to hold it again this year."
Lea said his sister got multiple calls from people specifically asking them to have the reunion.
"The energy for it this year is like it never happened before," Langford said. "It seems like a brand-new toy."
For those who question whether graduates who span 40 years can socialize together and have a good time, Langford said she isn't worried. "Merging generations helps us understand our differences," she said. "At the end of the day, a good party is a good party, no matter what era you're in."
If you want to buy tickets contact Terry Lea at 609-892-5286 or Nynell Langford at 609-432-9649
---
Thanks for reading the whole story!
At Atlantic City Focus, we're committed to providing a platform where the diverse voices of our community can be heard, respected, and celebrated. As an independent online news platform, we rely on the support of readers like you to continue delivering quality, community journalism that matters. By donating today, you become a catalyst for change helping to amplify the authentic voices that might otherwise go unheard. And no contribution is too small, $5, even $1 is appreciated. Join us in making a difference—one uplifting story at a time!