Tim Alexander Announces Congressional Campaign in AC
Alexander again will face incumbent Republican U.S. Rep Jeff Van Drew, who was first elected to political office as a Democrat but publicly switched parties in 2019.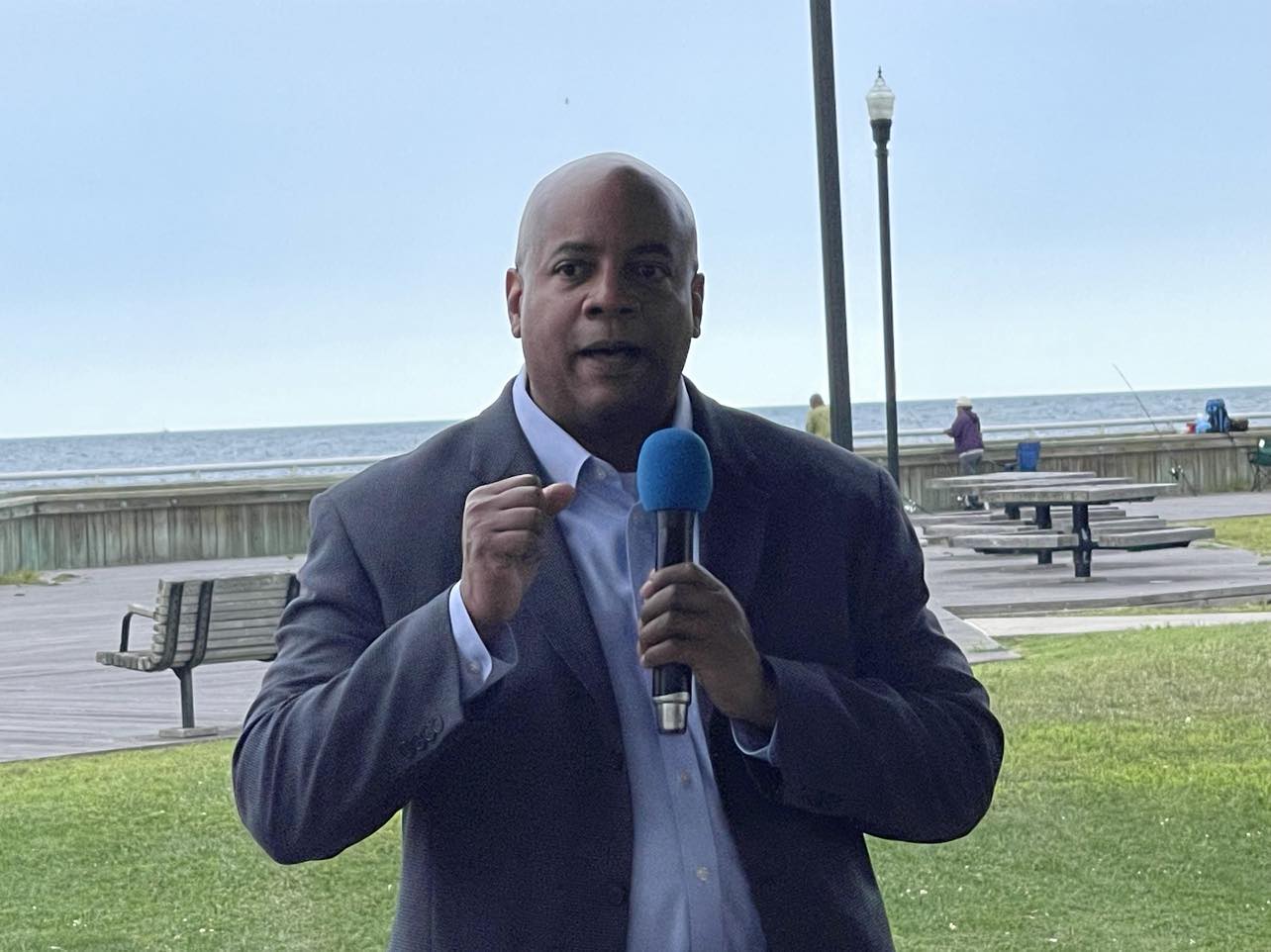 ATLANTIC CITY — Tim Alexander announced his 2024 run for Congress on Thursday Aug. 3, at Oscar E. McClinton Waterfront Park.
Surrounded by fellow Democrats, family and friends, Alexander focused on the need for economic development, preserving and protecting Medicare and addressing issues that affect veterans. Alexander also said protecting women's reproductive rights was an important campaign issue.
A cool summer breeze blew as the event started at about 6:30 p.m. The air took on an autumn-like chill as the evening progressed. Most brought their own portable chairs in bags. Others stood. Democratic candidates and supporters posed for pictures with Alexander throughout the evening while networking with the public and each other.
Alexander said he would support wind turbine projects in the Congressional 2nd district, which encompasses Atlantic, Cape May, Cumberland, and Salem counties and includes parts of Burlington, Camden, Gloucester and Ocean counties, because the jobs that the industry creates could be a great asset for the community.
"That doesn't require a college education and pays about $60,000 a year," Alexander said of wind project work. "That resonates with me."
Alexander didn't immediately go to college after high school. He earned his Bachelor of Science degree in Business Management in 2006 from Drexel University after a career in law enforcement. He earned a Master of Business Administration from the Drexel University LeBow College of Business in 2008. He then earned a Juris Doctor of Law degree from Rutgers University School of Law in Camden, NJ in 2012.
Alexander served as the Detective Captain for the Atlantic County Prosecutor's Office where he led the Criminal Investigation section. After retiring from the Prosecutor's Office, he worked for the Philadelphia District Attorney. He is now a civil rights and employment discrimination attorney.
"People need good paying jobs today. These are great pathways for people," Alexander said. "They can have their idea of the American dream. These are opportunities that pay real money."
Alexander then turned his attention to Medicare.
"Teeth, eyes and ears are part of your body so it should be one plan," Alexander said. "Attacking Medicare can't happen."
Alexander said his greatest challenges are fundraising, getting the word out and getting more Democrats to the polls.
"The goal here is to raise the money to reach more people," Alexander said. "We also have to turn out Democrats by not overpromising things we can't deliver. We can turn out Democrats with tangible, real, achievable goals."
Alexander again will face incumbent Republican U.S. Rep Jeff Van Drew, who was first elected to political office as a Democrat but publicly switched parties in 2019, and who told former President Donald Trump "you have my undying support" according to published reports.
Van Drew beat Alexander in 2022, garnering 139, 217 votes or 58.9% of total votes counted. Alexander had the next highest vote total in the race with 94,522 or 40% of the votes counted. Independents Michael Gallo received 1,825 votes and Anthony Sanchez received 920 votes.
Elected officials on hand for the announcement were excited to support Alexander.
"He's the right candidate," said Pleasantville Mayor Judy Ward. "He should have won last year. He's qualified to be our next congressman."
Atlantic City Council President Aaron "Sporty" Randolph gave a ringing endorsement.
"Tim deserves to go to Washington. We need him in Washington, and we need to do everything possible to get him in Washington," Randolph said. "So, whenever you go somewhere tell people, you need to vote for Tim Alexander."
---
Thanks for reading the whole story!
At Atlantic City Focus, we're committed to providing a platform where the diverse voices of our community can be heard, respected, and celebrated. As an independent online news platform, we rely on the support of readers like you to continue delivering quality, community journalism that matters. By donating today, you become a catalyst for change helping to amplify the authentic voices that might otherwise go unheard. And no contribution is too small, $5, even $1 is appreciated. Join us in making a difference—one uplifting story at a time!