Janmashtami Celebrated in AC with a Bond of Love
By Subrata Chowdhury for Atlantic City Focus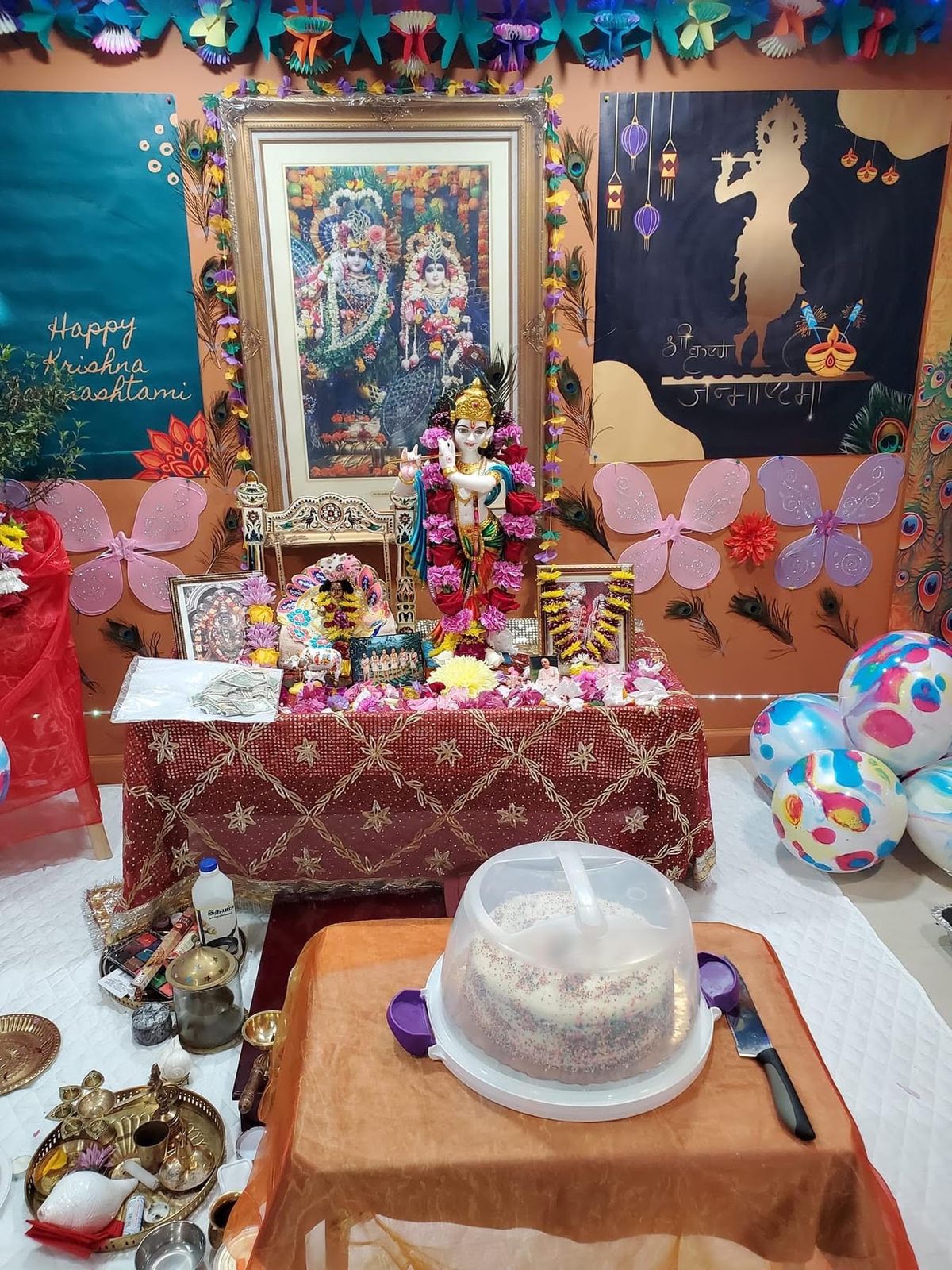 (To read this story in Bengali click here.)
Expatriate Hindus of Atlantic County, celebrated the birthday of Lord Krishna, the founder and progenitor of Sanatan Dharma, with great enthusiasm, religious pomp and ceremony.
Lord Krishna was born in the agonizing lap of Devaki and Vasudeva imprisoned in the prison of the tyrant King Kamsa in the city of Mathura on this date at the end of Dwapara Yuga.
According to Sanatan Dharma, Supreme Lord Krishna appeared in this world to establish the rights of the weak against the oppressors and suppress the wicked and nurture discipline.
The words of Mahavatar Lord Krishna have been stirring Hindus for thousands of years.
The Janmashtami festival held on Wednesday, Sept. 6, at the prayer hall at 1411 Penrose Avenue in Atlantic City, included Adhivas, Mangalacharan, Naam Kirtan, Gita reading, Krishna Puja, Padavali Kirtan, rosary, religious music and dance performance, religious quiz competition for children and teenagers.
Atlantic City Police Officer Suman Majumdar, Tripti Sarkar, Piklu Dash, Ganga Saha, Deepa De Jaya, Munmun Chakraborty, Mary Dey,
Dhiman Pal, Rana Dash, Sajal Dash, Indira Chowdhury, Praveen Vig, Bhabani Patel, Deepak Shah, Sajal Chakraborty, Sumi Majumdar, Minu Nandi, Supreeti Dey, Bidhan Saha, Soma Biswas, Vinod Vellore, Lucky Chowdhury and others participated in various stages of the Dharamsabha.
In addition to the new generation Shiva Das, Pranay Das, Amy, Rai, Anand, Siya Vig , Pari , Heer , Shanvi performed bhajans and dances. Their mesmerizing performance was thoroughly enjoyed by all.
Krishna lover Abdul Hamid discussed the biography of Krishna in the event.
Atlantic City 5th Ward Councilman Muhammad Anjum Zia, Bangladesh Association of South Jersey President Zahirul Islam Babul, Trustee Board President Abdur Rafiq, Hispanic Community Counselor Mimi Nimbo, 6th Ward council candidate Jeff Dorsey joined the Janmashtami festival and exchanged good wishes. The Janmashtami festival took the form of a solidarity gathering with the participation of people of different religions.
A large number of expatriate traditional Hindu communities attend the Janmashtami festival. Mahaprasad was distributed among all of them.
The Janmashtami festival ends with the cutting of the cake at one minute past twelve.
Atlantic City Board of Education member Subrata Chowdhury and police officer Suman Majumdar congratulated everyone on the occasion of Janmashtami and helped make the festival a success.
---
Thanks for reading the whole story!
At Atlantic City Focus, we're committed to providing a platform where the diverse voices of our community can be heard, respected, and celebrated. As an independent online news platform, we rely on the support of readers like you to continue delivering quality, community journalism that matters. By donating today, you become a catalyst for change helping to amplify the authentic voices that might otherwise go unheard. And no contribution is too small, $5, even $1 is appreciated. Join us in making a difference—one uplifting story at a time!