Atlantic City Focus Salutes Tommy Davidson: From in Living Color to Living in Color Comedian Talks Life, Love and Race
Tommy Davidson, best known for his work on In Living Color — the early 1990s sketch comedy series — spoke at the Wilmington Public Library to promote his new book Living in Color.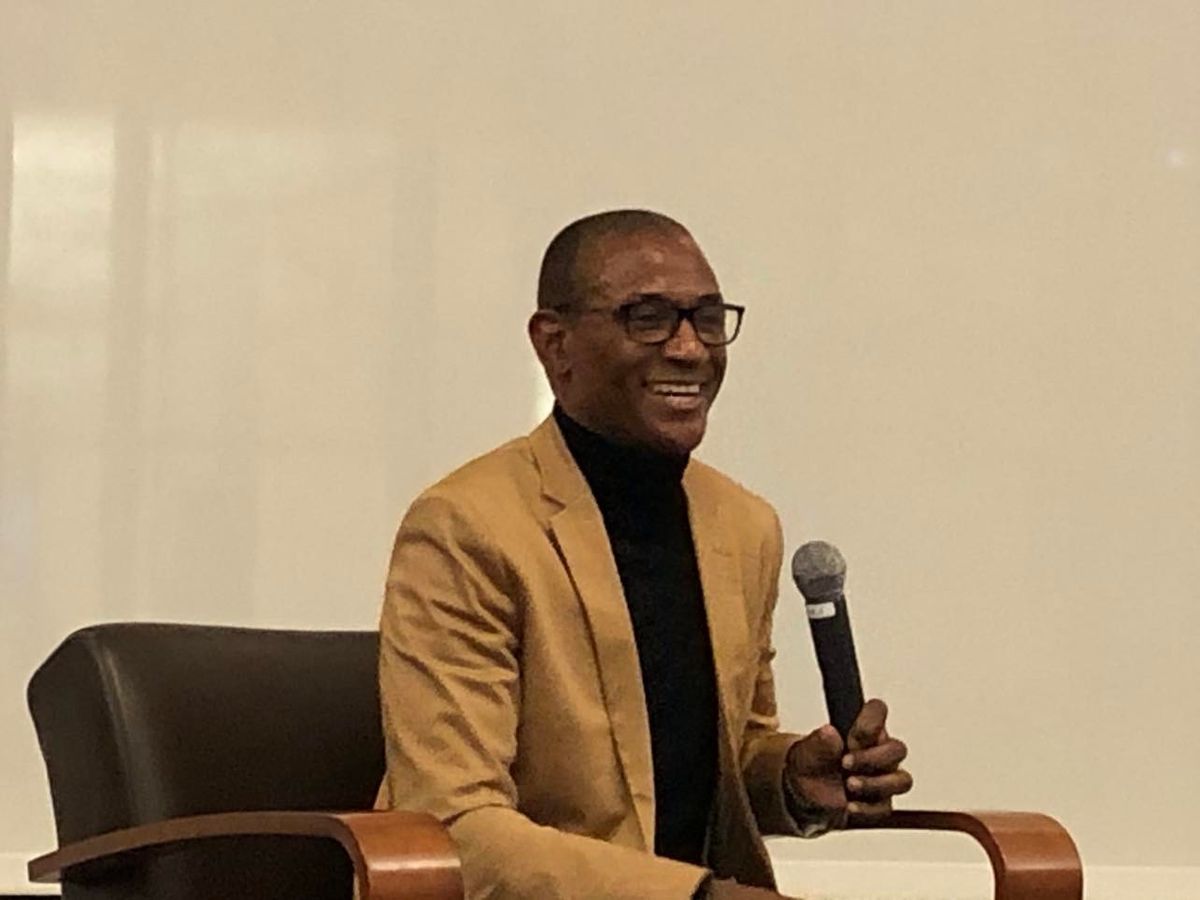 Comedian Tommy Davidson rose to stardom after being abandoned on a trash heap in Mississippi.
The white woman who found him, accepted him as her own and did her best to prepare him for an often-cruel world. "If you want to be successful in this society, your sister can be late, but you can't," said Davidson, recalling his mother's words.
Although his brother, sister and grandfather were all white they taught Davidson about race, inequity, and the power of love.
"To take me into her family, she had to be hip in the first place," Davidson said of his adopted mother Barbara Davidson. "I just had to learn who I was."
The iconic comedian best known for his work on In Living Color — an early 1990s sketch comedy series that ran on the Fox television network — was a featured speaker for the Wilmington Public Library's "Choppin' it up" series. Davidson, who was promoting his new book Living in Color, spoke from 6 to 7 p.m. on his birthday, Thursday Nov. 10, to a crowd that watched intently as he shared important life lessons.
"I've been living in color my whole life," Davidson said. "I see the similarities in people."
Davidson said he learned about different ethnicities by watching football with his grandfather. They would read the names on the backs of the jerseys and then talk about the origins of each name.
Most ethnic groups have suffered through challenges, Davidson explained.
The Irish endured the potato famine in Ireland. The Chinese suffered indignities while building the American railroad system. Jews suffered during the Holocaust being loaded onto box cars, he said.
Midwestern whites left their homes during the dust bowl era of the Great Depression. Many in that situation were lured to California with the promise of work picking fruit at one price, only to arrive and be paid much less, Davidson explained.
"We're the only population in this whole country that came here against our will," Davidson said of Blacks brought to America through slavery, "and we're the only population, singularly, that has built this country's wealth without being paid a dime."
Still, Davidson, 59, has not been embittered.
"It's the love on this planet that's going to save us, not the hate," Davidson said. "I believe the good Lord sent a lot of messengers and we're ignoring it."
In addition to race relations, Davidson talked about how he landed the job on In Living Color, growing up in the Washington DC-area, being delivered from addiction and how the media shapes perceptions.
Jamar Rahming, Wilmington Public Library executive director, said the Choppin' it Up series was designed to bring people together.
"Food, art, and music are some things we can all agree upon," said Rahming. "Pop culture is one of the things that people agree upon. That's how you build community."
---
Thanks for reading the whole story!
At Atlantic City Focus, we're committed to providing a platform where the diverse voices of our community can be heard, respected, and celebrated. As an independent online news platform, we rely on the support of readers like you to continue delivering quality, community journalism that matters. By donating today, you become a catalyst for change helping to amplify the authentic voices that might otherwise go unheard. And no contribution is too small, $5, even $1 is appreciated. Join us in making a difference—one uplifting story at a time!