Bader Field Redevelopment Plan Takes First Steps
DEEM Enterprises, LLC, represented by local attorney Daniel J. Gallagher, plans to build a $3.3 billion project that includes a racetrack, residential housing along with retail and commercial development.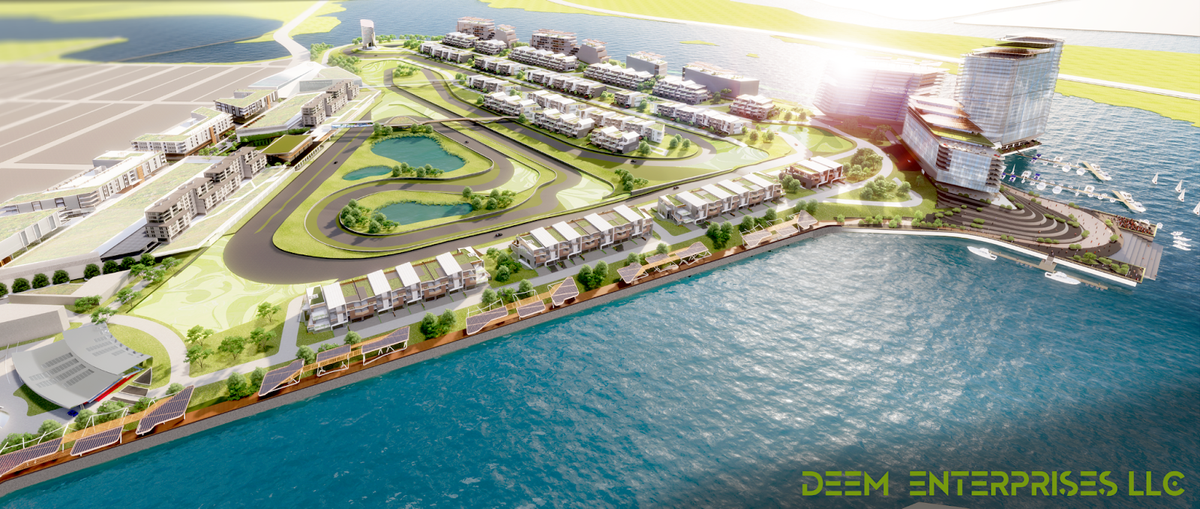 ATLANTIC CITY — A racetrack, residential housing and commercial development will transform Bader Field, if a proposed $3.3 billion project comes to fruition.
Mayor Marty Small Sr., City Council President Aaron "Sporty" Randolph and DEEM Enterprises, LLC, representative Daniel J. Gallagher signed a memorandum of understanding on March 23, essentially giving the developer six months to complete due diligence and decide whether to move forward with the project.
"This has been a long time coming," said Small, under a white tent for a news conference at the Bader Field site. "We have been dealing with this since 2017."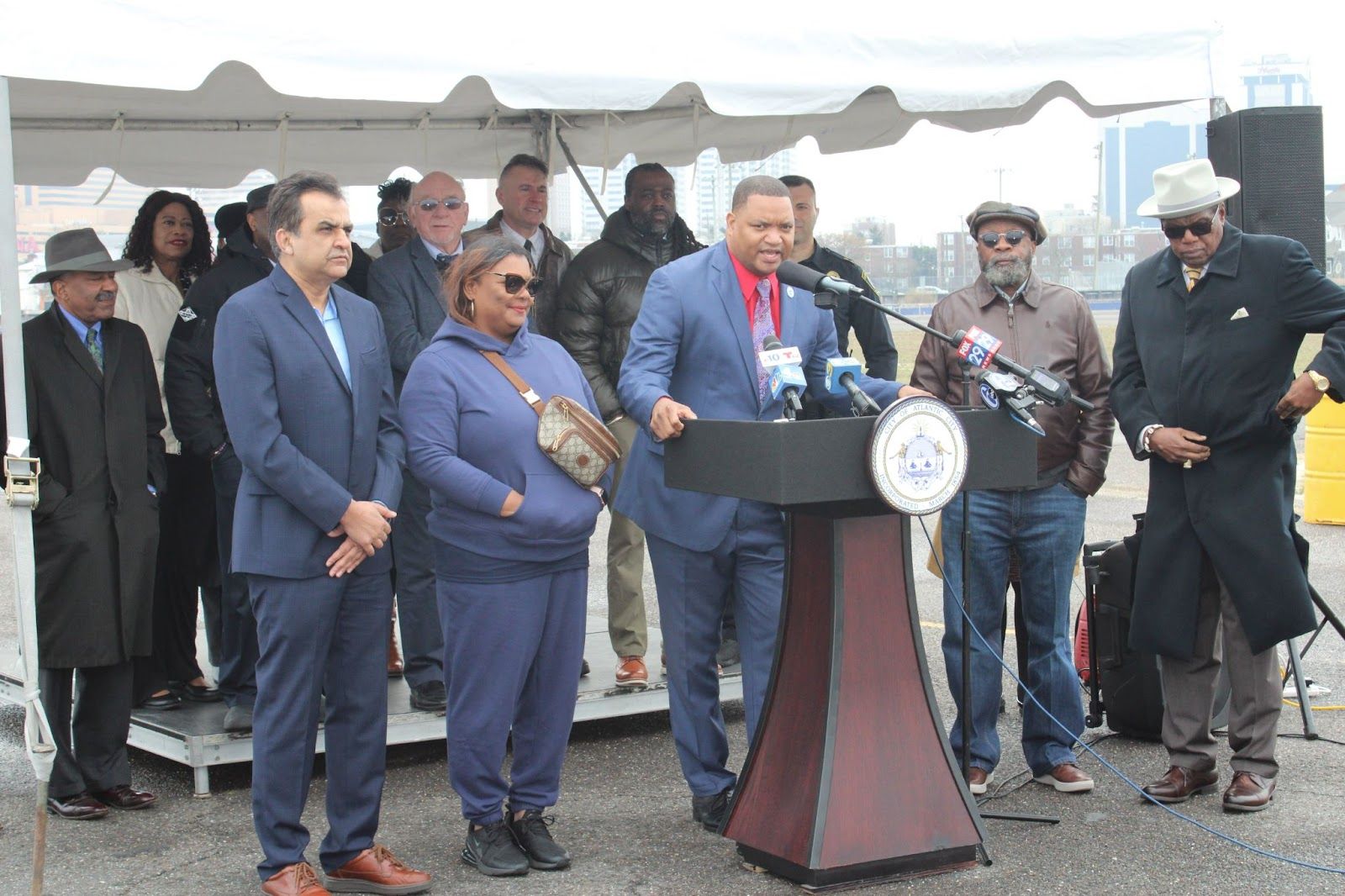 The Renaissance at Bader Field project would welcome automotive and motor sport enthusiasts from all over the world to a new waterfront community anchored by a 2.44 mile road course designed to Federation Internationale de l'Automobile, FIA, standards. The track would provide a unique driving experience for both residents and club members. The project would create thousands of construction jobs and result in automotive education opportunities along with retail and other permanent jobs, according to DEEM Enterprises, LLC, CEO Erick Feitshans.
"Execution of the MOU and commencement of our initial development activities will launch the next exciting new chapter at Bader Field," Feitshans said in a prepared statement. "The DEEM Enterprises team is eager to collaborate with Mayor Small, Atlantic City and New Jersey state representatives to establish Renaissance at Bader Field as an international beacon for clean living, economic growth, and the enduring American spirit that celebrates innovation, diversity and inclusion."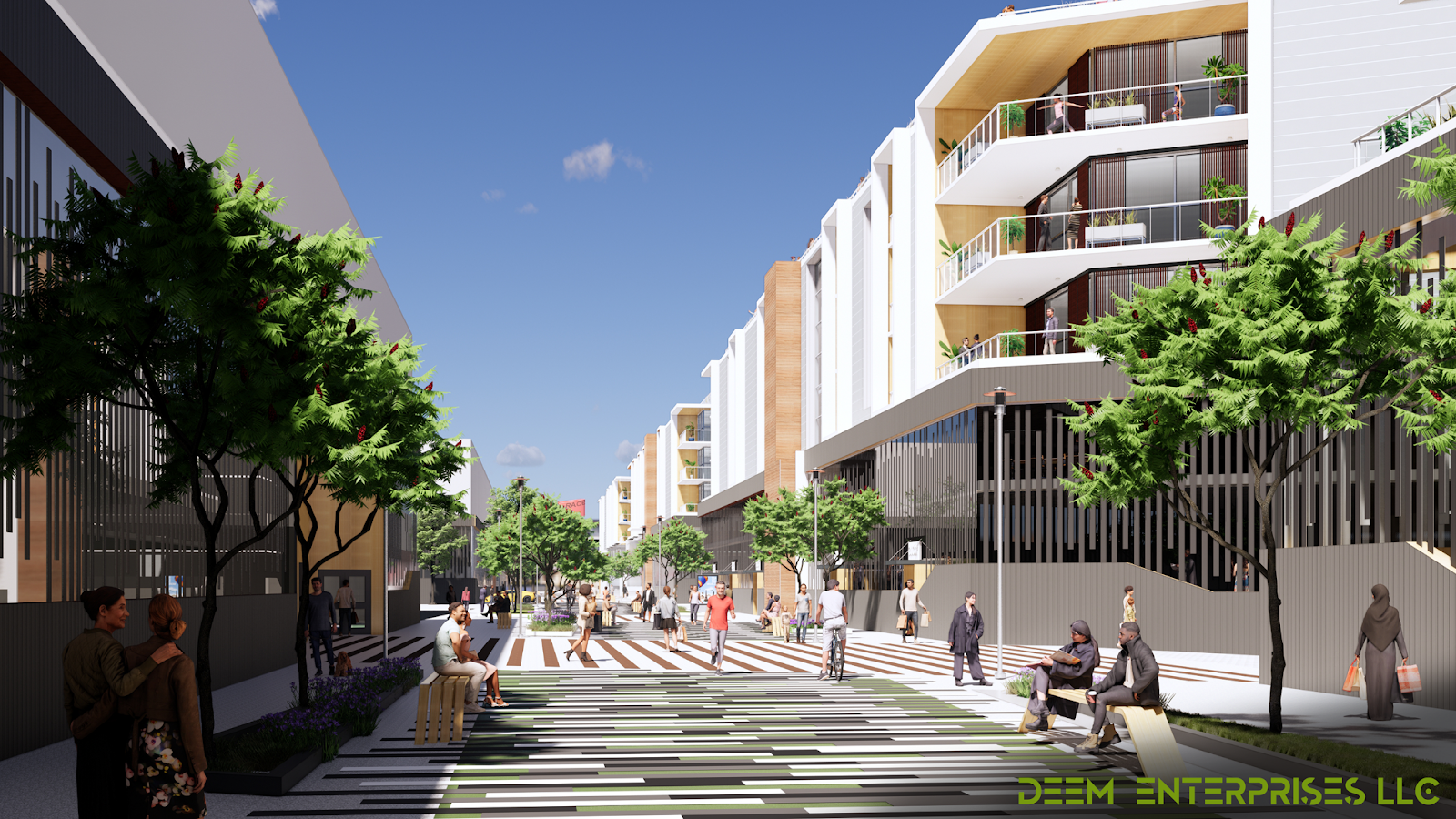 Bader Field, the 143-acre plot of land along Route 40 near the Chelsea Heights neighborhood and just off the Intracoastal Waterway, has been discussed as a possible development boon for the resort since the city stopped using it as a municipal airport in 2006.
Originally opened in 1910, Bader Field was the first municipal airport in the United States. According to published reports, the word "air-port" was first coined to reference Bader Field in 1919.
Throughout its rich history, the location has welcomed many aviation icons including Col. Charles A. Lindbergh who made the first solo-flight across the Atlantic Ocean with his plane the Spirit of St. Louis, Ameilia Earhart, the first female to solo across the Atlantic, and World War I fighter pilot and Medal of Honor recipient Eddie Rickenbacker. Lindberg, Earhart and Rickenbacker celebrated the opening of Eastern Airlines there in 1931.
Bader Field also was the site where the first Black men in America made a transcontinental flight. Dr. Albert E. Forsythe and C. Alfred Anderson flew their plane the "Pride of Atlantic City" to Los Angeles and back and were honored with a parade in July of 1933. (The New Jersey chapter of the Black Pilots of America was renamed in Forsythe's honor in 1987 and continues today as the Dr. Albert E. Forsythe Chapter of the Black Pilots of America.)
In 1941, During World War II, the Civil Air Patrol was also founded at Bader Field and volunteers searched the Atlantic for enemy submarine activity. During the war, the U.S. Navy took over the airport and used it as a military base.
Bader Field was modernized after World War II and eventually Allegheny Airlines flew commercial flights from (AIY) Bader Field before moving its operations to Atlantic City International Airport (ACY.) Allegheny Airlines became USAir, Inc., then US Airways and finally merged with American Airlines in 2015.
In 2017, the city received four proposals to redevelop Bader Field, according to published reports.
Frank Boulton, the former owner of the Surf baseball team which was part of the Atlantic League of Professional Baseball, wanted to use the former Surf Stadium for a new baseball project. Glenn Straub, the former owner of the Revel casino, which is now Ocean Resort Casino, had proposed turning it back into an airport. The city had also received bids from Bader Field Development, LLC, of Long Branch, in Monmouth County and the Pipe Dream Development Group, of Brick, in Ocean County.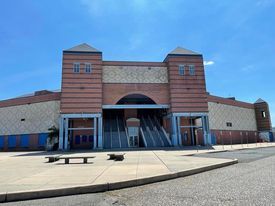 None of those proposals materialized.
The City Council passed a resolution on March 22 authorizing the municipality to execute the MOU with DEEM.
"This project won't just change the landscape of Atlantic City, but it will give our taxpayers relief like never before," Small said. "The ratable base will nearly double."
Renaissance at Bader Field is designed to be a "net-zero carbon LEED Platinum Community," according to the DEEM Enterprises, LLC, website  https://www.deem-enterprises.com/ .
That means the project would be built to LEED, Leadership in Energy and Environmental Design, certification standards. According to the U.S. Green Building Council, LEED is the most widely used rating system for environmentally friendly, or green, building standards worldwide. A LEED Platinum rating means that a project would earn the highest designation in terms of the project being considered healthy and highly efficient. Net zero carbon emissions means that the total carbon emissions from energy consumption would either be offset or completely avoided over a 12-month period, resulting in a net-zero impact on the environment.
"As members of the Atlantic City community, we know Bader Field is one of the most valuable assets of Atlantic City and the type of development that occurs there will be of the utmost importance," the DEEM website states. "However, what is often overlooked is that Bader Field is a Federal EPA-designated brownfield site which means it is polluted and must be cleaned up before it can be developed. We believe this type of scenario creates opportunity for the greater good which we seek to realize for the citizens of Atlantic City."
DEEM is a locally based company with roots in Los Angeles, Ca. The FIA affiliation potentially gives the project global reach. Founded in 1904, with headquarters in Paris, the FIA is the governing body for world motor sport and the federation of the world's leading motoring organizations, according to the Federation Internationale de l'Automobile website  https://www.fia.com/fia . The FIA also promotes safe, sustainable and accessible mobility for all road users across the world and works to reduce the number of road fatalities worldwide.
Small said his administration worked closely with the state and legal professionals to protect the interests of the city and its residents.
Under the proposed plan, Atlantic City would get $115 million from DEEM, with $15 million allocated to build a recreation center, and up to another $7 million for dredging, according to a prepared statement.
"What I don't think gets discussed enough is this won't cost city taxpayers a dime," Small said. "Immediately $500,000 will be deposited into a city escrow account for professionals from the state and city to do their due diligence along the way to keep this project moving along."
The City has been subject to state takeover since 2016, when first enacted by former Republican Gov. Chris Christie. The takeover was designed to help the state get control of the resort's troubled finances.
Gov. Phil Murphy, a Democrat, extended the state's oversight in June 2021 as it was set to expire. That means the state still has control over most of the municipality's major decisions. As such, any plan for Bader Field must be approved by the state.
Under the Small administration, the city's finances have improved, however, with Wall Street investment firm Moody's raising the municipality's credit rating signaling increased confidence in the resort's ability to repay long-term debt.
"We view the continued oversight by the State of New Jersey as critical to the city's well-being and progress," the September 2022 Moody's report said. "The state's future oversight role remains to be determined and will be of critical importance to the city's future credit quality."
Randolph said he believed this project would be the one to finally move forward.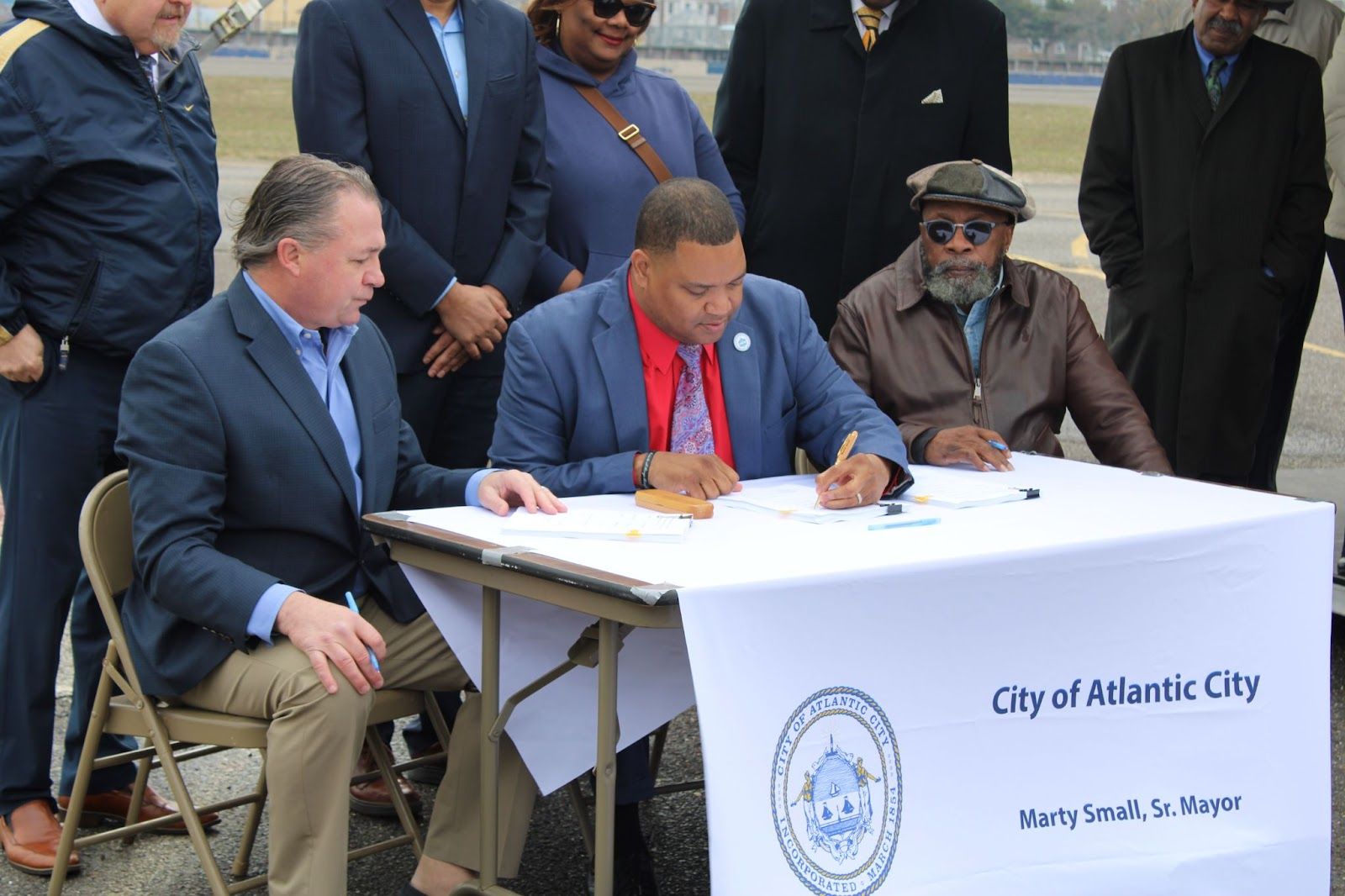 "We had a syndrome. It was called Bader Field syndrome," Randolph said. "But we're over it now. DEEM is here. We're on the rise. We're going to look out for our taxpayers so we're extremely happy."
Small thanked Gov. Murphy, Lt. Gov. Sheila Oliver and the entire NJ Department of Community Affairs for their support in getting to this point.
"This is a great day in Atlantic City and a historic day in Atlantic City," Small said.
Small also said Atlantic City residents would not be left out of the process.
"We're going to hold their feet to the fire to make sure Atlantic City residents get its just due on all facets of this project," Small said. "That commitment was made."
Councilman Kaleem Shabazz said the City Council and the administration both share enthusiasm for this project.
"We're united with the mayor to make sure Atlantic City moves forward," Shabazz said. "Atlantic City is open for business. We are focused on making things better."
Gallagher said the proposed project signals a beginning. Small said the onus is now on DEEM to produce.
"DEEM has a six-month window to show us what they got," Small said. "This is their chance."
---
Thanks for reading the whole story!
At Atlantic City Focus, we're committed to providing a platform where the diverse voices of our community can be heard, respected, and celebrated. As an independent online news platform, we rely on the support of readers like you to continue delivering quality, community journalism that matters. By donating today, you become a catalyst for change helping to amplify the authentic voices that might otherwise go unheard. And no contribution is too small, $5, even $1 is appreciated. Join us in making a difference—one uplifting story at a time!