Atlantic City Focus Salutes: Pam Grier
The iconic female action hero known best for 1970s films such as "Coffy," "Foxy Brown," and "Sheba Baby"makes humanitarianism her new heroine focus.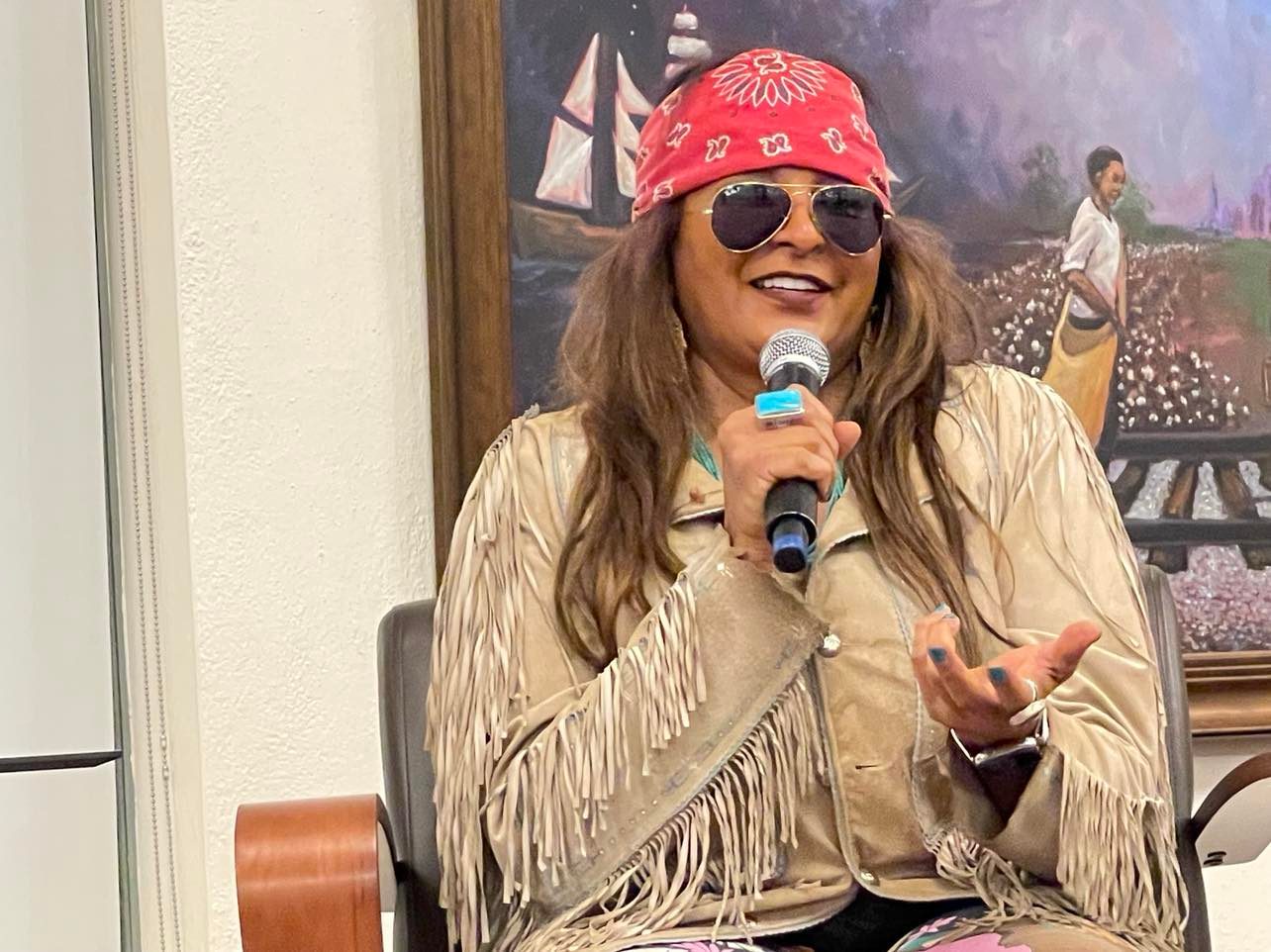 Seventies heartthrob Pam Grier could get a new Lamborghini every time she works. But she'd rather use the money to buy older homes, then remove lead paint and pipes and provide quality housing for people who need it.
"We're all supposed to be keepers of the earth," says Grier.
The iconic female action hero known best for 1970s films such as "Coffy," "Foxy Brown," and "Sheba Baby" was the final featured speaker at the Wilmington Public Library's Living Legend Series for Black History Month. She spoke from 6 to 7 p.m. on Wednesday, Feb. 23, to a masked crowd following Covid-19 protocols with standing room only.
"Now every one of you is my friend," she says Prefer smiling warmly, clad in a beige western fringe jacket with matching boots, flower print pants and a red bandanna with sunglasses and a turquoise ring.
Although she acknowledged her status as a sexy superstar, she says she sees herself as an "idealist and influencer." To that end, she supports several causes such as working to get audiobooks delivered to Veterans Affairs hospitals. Many veterans, who would love to read books, can't because they've lost their sight, or they're missing a hand and have a hard time holding physical books, she says. "I am so sorry for the way we treat our vets," Grier says. "All of us are here because of our vets."
Water preservation and abandoning internal combustion engines are also important issues that too often get overlooked, she says. "You can drink water, but you can't drink oil," she added.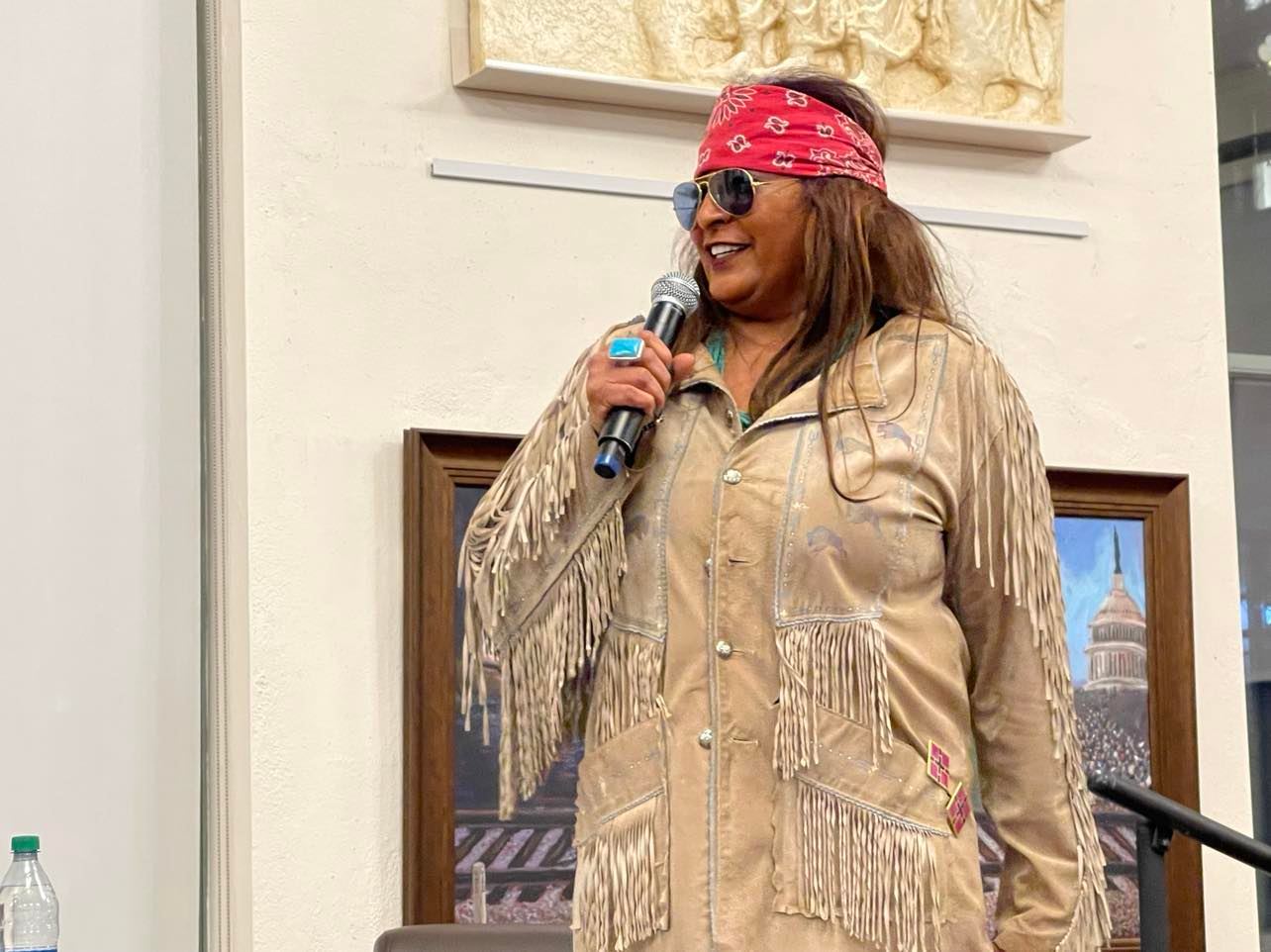 Grier says she is also passionate about encouraging people to be kind to one another because everyone is a member of the interconnected human family. "We all have value," she stated. "It's not what I give or get. It's what we give or get."
Angela Massey, originally from Newark, NJ, says she enjoyed Grier and believes that the Black History series had an even more important benefit. "It's helping people see that the library is more than just books on the shelf," says Massey.
(Atlantic City Focus is committed to bringing readers experiences with living Black History icons whenever and wherever possible. Prior speakers in the Living Legends Series included scholar and political activist Angela Davis and Ernest Green, a member of the Little Rock Nine who were the first African- American students to attend Little Rock Central High School in Little Rock, Arkansas.)
---
Thanks for reading the whole story!
At Atlantic City Focus, we're committed to providing a platform where the diverse voices of our community can be heard, respected, and celebrated. As an independent online news platform, we rely on the support of readers like you to continue delivering quality, community journalism that matters. By donating today, you become a catalyst for change helping to amplify the authentic voices that might otherwise go unheard. And no contribution is too small, $5, even $1 is appreciated. Join us in making a difference—one uplifting story at a time!