Atlantic City Focus Salutes: "Lucy"
Lucy's Chest: Legacy of South Jersey's Last Slave" tells her story in an exhibit at the African American Heritage Museum of Southern New Jersey until the end of 2022.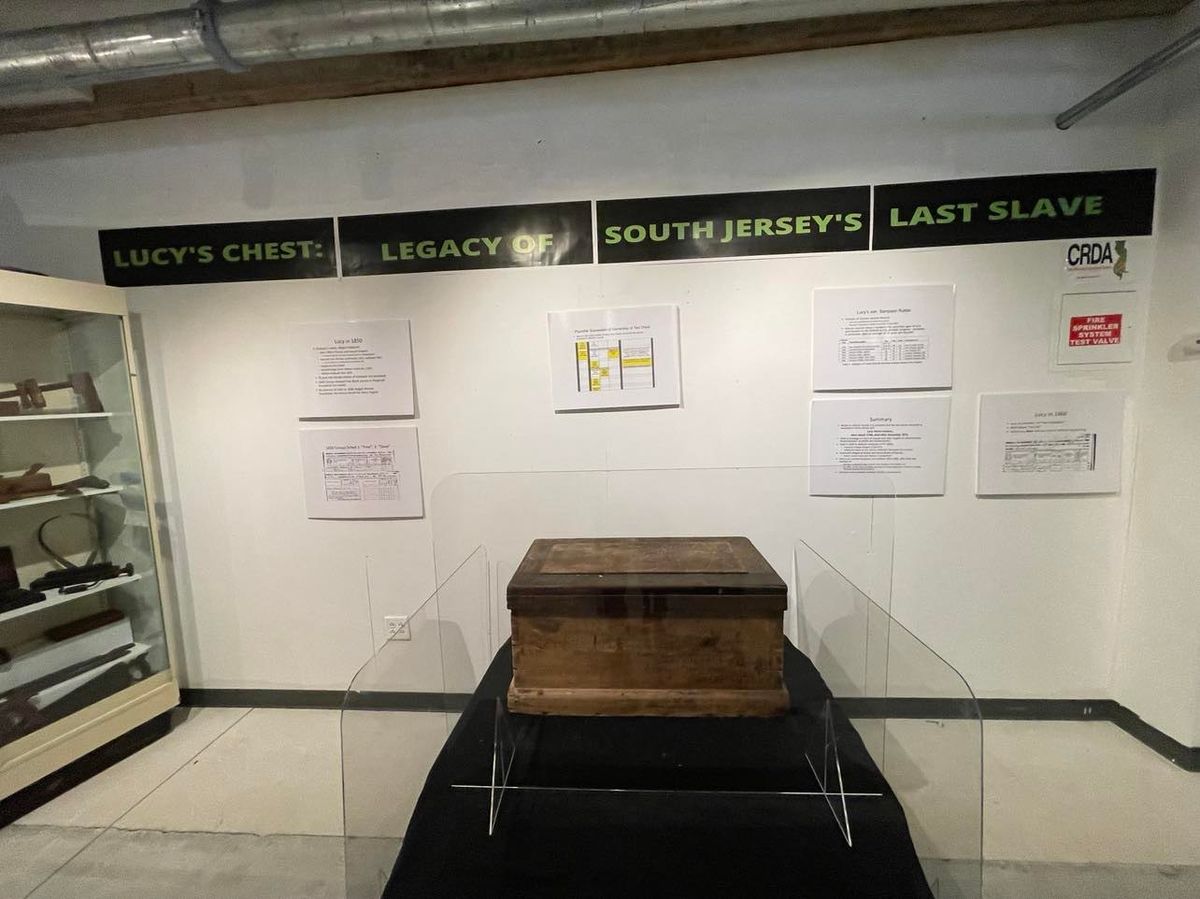 ATLANTIC CITY — The last enslaved Black person in southern New Jersey apparently lived in Mays Landing.
She was a carpenter by trade.
And her name was Lucy Harris-Jackson.
"Lucy's Chest: Legacy of South Jersey's Last Slave" is the exhibit telling her story on display until the end of 2022 at the African American Heritage Museum of Southern New Jersey in Atlantic City at the Noyes Arts Garage of Stockton University.
Museum Founder Ralph E. Hunter, Sr. said that Harris-Jackson, often identified in historic records only as Lucy, had a fascinating story.
"We have her trunk as well as her carpenter tools at the museum," said Hunter. "It's a great exhibit and I really want everyone who has an opportunity to come by and see it."
According to U.S. Census records, Lucy was born sometime about 1780 and died sometime after November in 1871.
Records indicate that she lived on a farm on Steelmanville Road when she was owned by Joseph and Mary English. But in 1838, she was sold to William Holdcraft, who was the husband of Abigail Doughty. Doughty was the widow of John Winner, who had been the postmaster and port collector in the area.
Historian Robert Lowe Barnett stumbled upon her story while doing research for westjersey.org, a website devoted to southern New Jersey history and eventually brought it to Hunter's attention.
"When I was doing research into slavery in New Jersey, I realized there was a lot more slavery in the north of New Jersey than South Jersey," said Barnett. "I'm looking at the census and when we get to 1850 there is only one person listed as a slave in the southern counties of New Jersey. That person was in Atlantic County."
Barnett said the census didn't give the slave's name, only the slaveholder's name. It gave the age and sex.
"This turned out to be Lucy," Barnett said.
But piecing her story together was a challenge. Old newspaper accounts included people who remembered Lucy, Barnett said. He published a story about Lucy in the Atlantic County Historical Society yearbook.
Then he had a stroke of luck. Keeta Kay Wolfe, formerly Cole, of Lititz, PA, called with the missing link.
"We have an old trunk that's been in my family, and it's been passed down and the story is that this was owned by the last person enslaved in South Jersey," Wolfe said. "It sat in my basement for as long as I could remember, and it was just there."
Wolfe said her family also had a set of chimes that were used to call slaves from the fields to eat dinner or get instructions.
When Wolfe learned of Barnett's research, she wanted to find a way to return the trunk and chimes to Atlantic County. Barnett facilitated the donation to the museum.
"One of the reasons I decided to donate it was I thought this is something that needs to be preserved and not just sent to auction," Wolfe said. "It was sitting around waiting to be loved and loved properly."
Wolfe said when she learned more about Hunter's work she knew that the museum was the right place.
"We were just the keepers of the chest and fortunately we were able to track it back to where it came from," Wolfe said. "I'm just so excited that the chest has found a home."
---
Thanks for reading the whole story!
At Atlantic City Focus, we're committed to providing a platform where the diverse voices of our community can be heard, respected, and celebrated. As an independent online news platform, we rely on the support of readers like you to continue delivering quality, community journalism that matters. By donating today, you become a catalyst for change helping to amplify the authentic voices that might otherwise go unheard. And no contribution is too small, $5, even $1 is appreciated. Join us in making a difference—one uplifting story at a time!