AC Students Receive $1M through Mayor Marty Small, Sr. Scholarship
The first 50 scholarships of $10,000 each were given to current high school seniors who graduated the next day. Another 50 scholarships, which will also be paid out in $5,000 increments per semester, were awarded to college students who previously graduated from Atlantic City High School and live in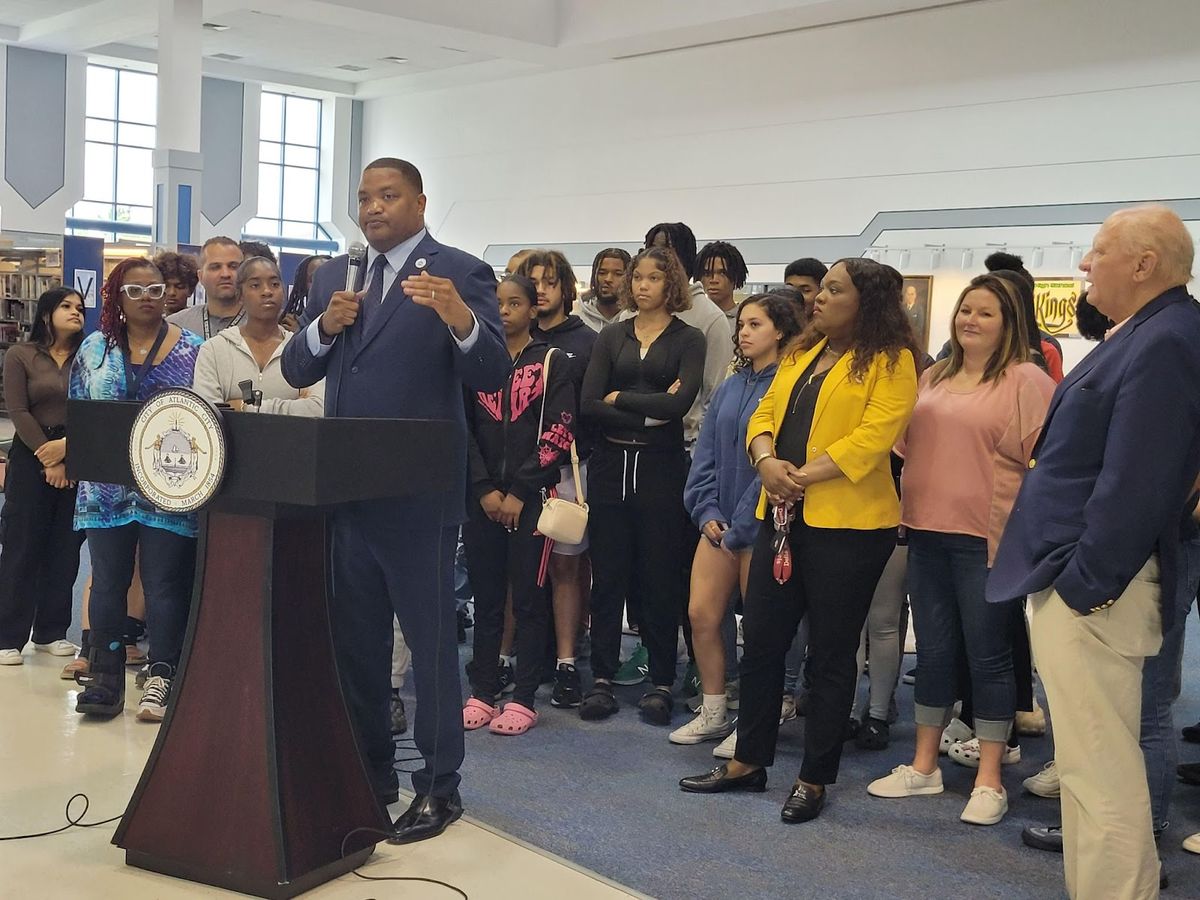 ATLANTIC CITY — Atlantic City High school students got good news on Tuesday, June 20 when Mayor Marty Small Sr. came to the school to announce winners of the scholarship named after him.
The first 50 scholarships of $10,000 each were given to current high school seniors who graduated the next day. Another 50 scholarships, which will also be paid out in $5,000 increments per semester, were awarded to college students who previously graduated from Atlantic City High School and live in the resort. Those students are college sophomores, juniors, and seniors.
"It was an extremely competitive process," Small told the students gathered in the high school library for the announcement during a morning news conference. "These students have high aspirations."
One of them wants to be the mayor of Atlantic City.
"I promise to keep the seat warm for you," Small said. "Another wants to be my press secretary."
The mayor warned Public Information Officer Andrew Kramer to, "watch out."
The students had to write an essay on how to continue to make it a great day in the City of Atlantic City and submit their resume. GPA wasn't part of the criteria.
Schools Superintendent Dr. La'Quetta Small, who is the mayor's wife, encouraged students to come back to Atlantic City once they've gotten their education.
"I just hope after you go to college, you stay there, you finish and you come back to the great City of Atlantic City and execute upon your ideas," La'Quetta Small said.
The mayor also challenged students to come home and make the city better.
"This is the message and the challenge for the students," Mayor Small said. "Never forget where you come from. I was once you. I didn't go far away for college. But with a college degree, I could have gone anywhere and set my foundation. But I came back home."
Rami Rabayah, who was the school's valedictorian, said the scholarships would help alleviate financial stress that would allow the students to focus on their academics.
"I know students who have spoken about how they didn't know how they were going to pay for things like food, bills and rent," said Rabayah. "I myself wondered."
The scholarship is part of a $3 million commitment through the next three years from the Addressing Educational Disparity category of the American Rescue Plan funds received from the federal government.
All 100 scholarship winners will be posted on the City of Atlantic City website acnj.gov
"A lot of people talk about being for the kids, but this administration literally puts its money where its mouth is," Small said.
---
Thanks for reading the whole story!
At Atlantic City Focus, we're committed to providing a platform where the diverse voices of our community can be heard, respected, and celebrated. As an independent online news platform, we rely on the support of readers like you to continue delivering quality, community journalism that matters. By donating today, you become a catalyst for change helping to amplify the authentic voices that might otherwise go unheard. And no contribution is too small, $5, even $1 is appreciated. Join us in making a difference—one uplifting story at a time!
To watch the full news conference click the following link:  https://rb.gy/5r5wy