AC launches "Project Clean Community" for 2023
Throughout the summer, Public Works crews will clean a different ward each day and encourage residents to maintain their own neighborhoods.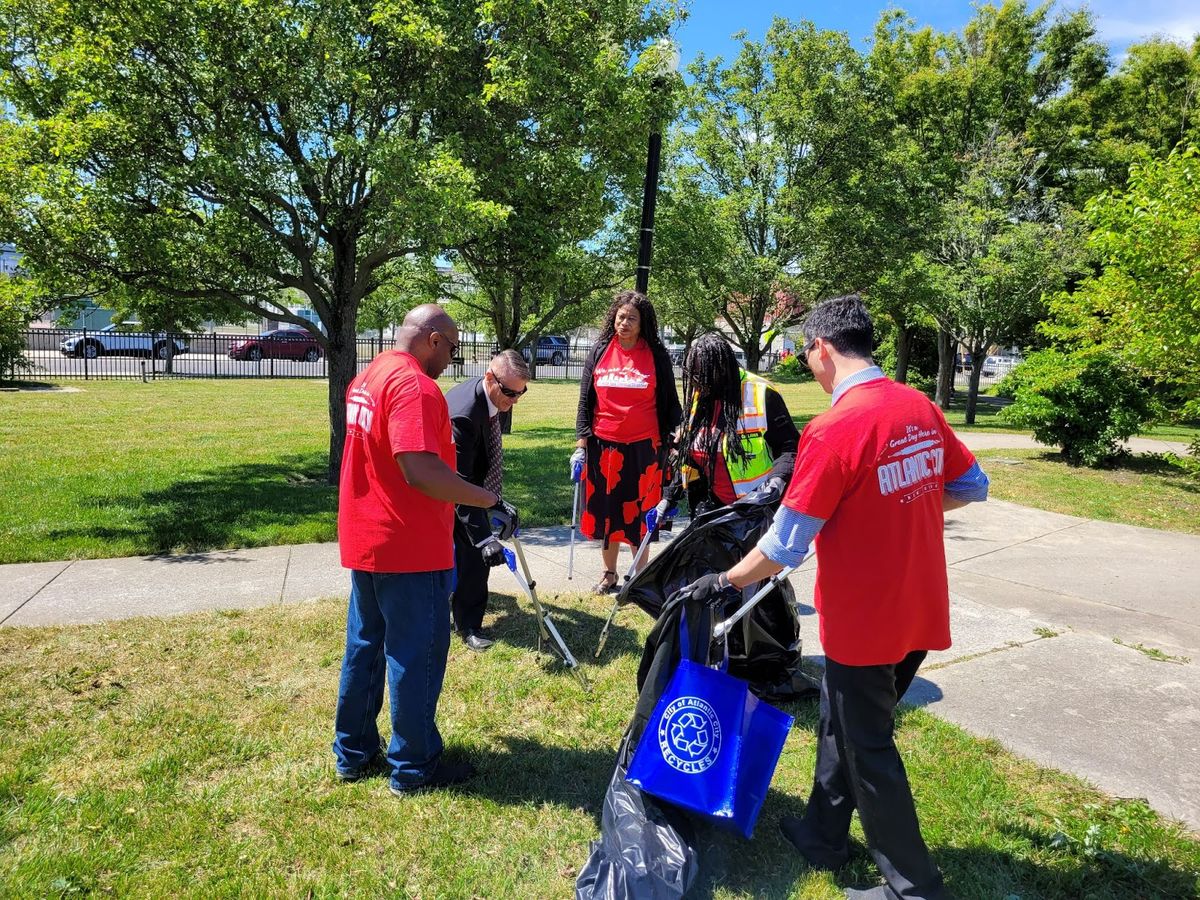 ATLANTIC CITY — Public Works crews are coming to a neighborhood near you to promote the return of the "Project Clean Community" initiative.
Mayor Marty Small Sr. City Council President Aaron "Sporty" Randolph and various department heads converged on Fisherman's Park in the first ward on Monday June 5, for the first cleanup of the program.
"This is all part of our clean and safe agenda in the great City of Atlantic City," Small said in a prepared statement. "We have the hardest working Public Works Department out there today, and this effort is a perfect example."
Throughout the summer, Public Works crews will clean a different ward each day and encourage residents to maintain their own neighborhoods.
"We're going to be in your community once again this summer, and we hope to see you out there with us," said Department of Public Works Clean Communities Coordinator Angela Brooks-Pittman. "If we all work together, we can create a healthier and safer environment in Atlantic City. Keep a lookout for our workers when we're in your community. We want you to be proud of and maintain your property, and we're here to help you out any way we can."
The Public Works department will set up tables and give out reusable bags, gloves, and other supplies to help residents help themselves.
"Our men and women of the Department of Public Works are the ones out here every day cleaning up Atlantic City, and they deserve all the credit in the world for that," said City of Atlantic City Public Works Director Crystal Lewis. "This is a total team effort, not just within our department, but from the entire Atlantic City community."
Residential groups of five or more can adopt at least four blocks during the program and receive $200 per month for the entire group to clean those blocks at least twice per month.
"We will collect trash, but it's up to the residents to make sure that trash doesn't resurface, and we look forward to keeping Atlantic City clean together," Lewis said.
More details and applications can be found here:  /content/files/_Content/pdf/2023-project-clean.pdf
Applications can be returned via email at  abrooks-pittman@acnj.gov
or dropped off at the Public Works Office in room 604 at City Hall, 1301 Bacharach Blvd. Additional questions about "Project Clean Community" can be directed to the Department of Public Works at 609-347-5700.
---
Thanks for reading the whole story!
At Atlantic City Focus, we're committed to providing a platform where the diverse voices of our community can be heard, respected, and celebrated. As an independent online news platform, we rely on the support of readers like you to continue delivering quality, community journalism that matters. By donating today, you become a catalyst for change helping to amplify the authentic voices that might otherwise go unheard. And no contribution is too small, $5, even $1 is appreciated. Join us in making a difference—one uplifting story at a time!
The following is clean up schedule of when Public Works crews will be in each area:
1st Ward: June 5, June 20, July 3, July 17, July 31, Aug. 14, Aug. 28, Sept. 11, Sept. 25
2nd Ward: June 6, June 21, July 5, July 18, Aug. 1, Aug. 15, Aug. 29, September 12th, Sept. 26
3rd Ward: June 7, June 22, July 6, July 19, Aug. 2, Aug. 16, Aug. 30, September 13th, Sept. 27
4th Ward: June 12th, June 26, July 10, July 24, Aug. 7, Aug. 21, Sept. 5, Sept. 18, Oct. 2
5th Ward: June 13th, June 27, July 11th, July 25, Aug. 8, Aug. 22, Sept. 6, Sept. 19, Oct. 3
6th Ward: June 14, June 28, July 12th, July 26, Aug. 9, Aug. 23, Sept. 7, Sept. 20, Oct. 4
On cleanup days, dumpsters will be placed in each ward to support Project Clean Community. But they are to be used for residential, rather than commercial use, Lewis said.
The dumpsters will be placed at the following locations:
1st Ward: New Hampshire & Parkside Avenues
2nd Ward: Adriatic and North Carolina Avenues
3rd Ward: Indiana Ave (across from MLK school)
4th Ward (Venice Park): Ohio & Kuehnle Avenues
4th Ward (2nd location): Georgia & Island Avenues
5th Ward: Sovereign & Sunset Avenues
6th Ward: Windsor & Winchester Avenues