AC Budget Shows Tax Decrease Again
The proposed 2023 Fiscal Year budget is $225,811,360.74 and has a more than 5-cent tax decrease.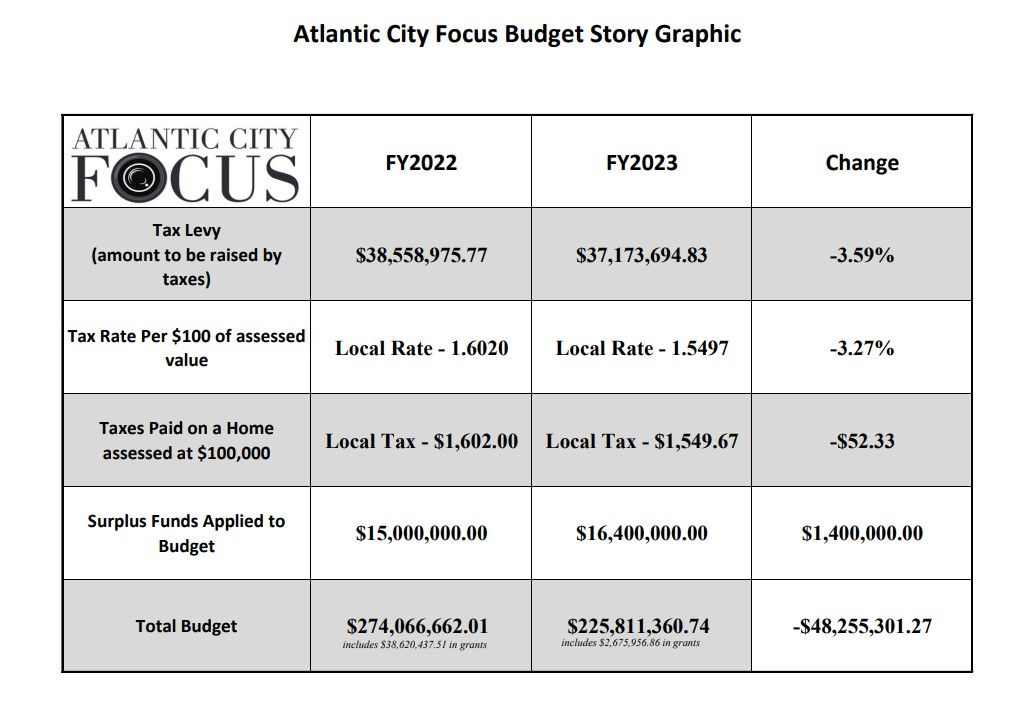 ATLANTIC CITY — The City of Atlantic City has a nearly $226 million spending plan for Fiscal Year 2023 with a 5.23 cent tax decrease.
Mayor Marty Small Sr., announced on Tuesday April 18, that this marks the fourth year in a row that taxpayers will see relief under his administration. He spoke during a morning news conference on the 3 rd floor balcony of the Carnegie Library building flanked by members of the city's budget team.
"This is the strongest the city's finances have been in a very long time and we're just getting started," Small said. "I want to thank everyone involved from our budget team to our department heads, to the state of New Jersey who helped make this happen."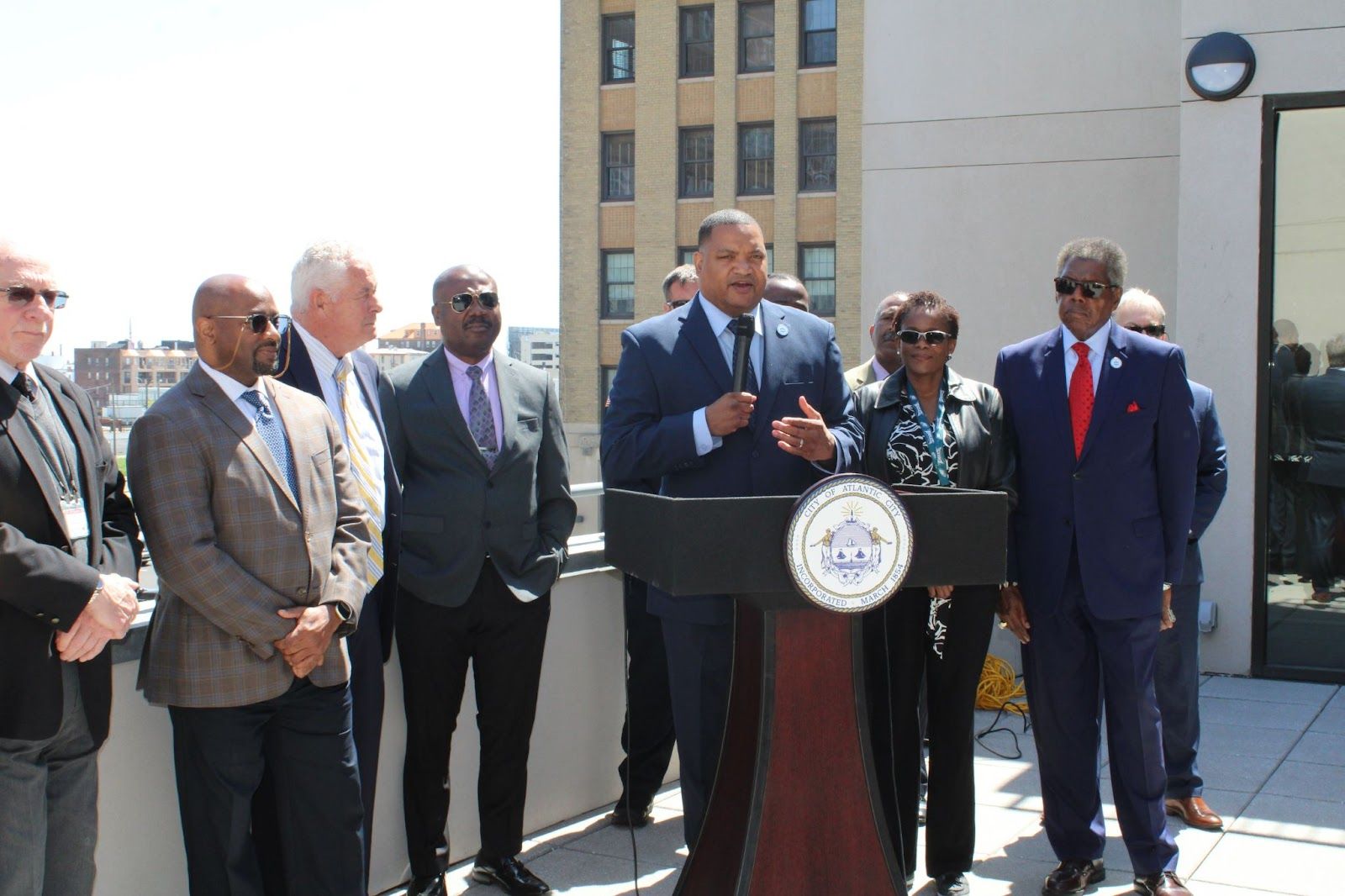 The 2023 Fiscal Year spending plan is $225,811,360.74, officials said.
"But let's make one thing clear, this isn't the state's budget, this is the city's budget," Small said. "If you think today is something, wait until more and more financial announcements come out that benefit the taxpayers, such as a continuous revenue stream of $5 million that's dedicated to tax relief. We're working extremely hard to provide more with less."
The budget team included Small, Business Administrator Anthony Swan, Chief Financial Officer Toro Aboderin, Budget Officer Tom Monaghan, City Auditor Leon Costello, and State Fiscal Monitor Wes Swain, according to a prepared statement.
The proposed budget, which has not yet been adopted by City Council, reduces the city property tax rate from 1.6020 per $100 of assessed value to 1.5497 per $100 per assessed value, according to Aboderin.
A taxpayer with a home assessed at $100,000 who paid $1602.00 in municipal property taxes during the current fiscal year would see that bill reduced to $1549.67 for FY 2023 under the spending plan, Aboderin said.
But Atlantic County and local school taxes were not included in that calculation. The total tax bill a homeowner would pay is a combination of municipal, county and school taxes.
Small said the city is in a far better position than it was seven years ago. In 2016, the city was in such a poor financial state that employees were only being paid once per month.
"We were teetering on the brink of bankruptcy," Small said. "We weren't sure that certain checks would be cashed."
That's when former Republican Gov. Chris Christie enacted a state takeover to help get control of the resort's finances.
Gov. Phil Murphy, a Democrat, extended the state takeover in June 2021, as it was set to expire, giving the state continued control over the city's budget and most of the municipality's major decisions.
But at this point, the city is doing much better, Small said.
In September 2022, Moody's Investors Service upgraded the resort's credit rating signaling increased confidence in the municipality's ability to repay long term debts. Moody's, which supplies investors with research for stocks, bonds, and government entities in addition to providing credit ratings and risk analysis, declared that the city has a positive outlook.
Small said he started the budget process with a goal of a double-digit tax decrease.
"Once again, I was talked off the proverbial cliff," Small said.
The 5.23 cent tax decrease was a compromise, he said.
"The budget is a wish list," Small said. "Every department gives their requests. All requests aren't honored. However, there are things that are important to this administration."
Mayor Small said during his "State of the City" address at the Metropolitan Business & Citizens Association kickoff event on Jan. 13 at the Palladium Ballroom at Caesars Atlantic City Hotel & Casino that his administration plans to build on the improvements to youth and senior services that are already underway.
Initial requests came in $25 million over budget, Swan said. But the budget team worked with every department to fund what was necessary.
"We do the best we can so that our department heads can accomplish the major goals they want to accomplish," Swan said. "This budget is difficult to put together because our main revenue source is property taxes and with that one revenue source, the mayor told us, 'You will not increase taxes of the residents.'"
In FY 2022, the tax levy, which is the amount to be raised by taxes, was $38,558,975.77. For FY 2023, the tax levy has been reduced 3.59% to $37,173,694.83, Aboderin said.
The City was able to apply $16.4 million in surplus funds to the FY 2023 budget and the total spending plan included nearly $2.7 million in grants, Aboderin also said.
"As everyone knows, everything out there is more expensive than it was last year, yet we're still able to give the taxpayers of Atlantic City a decrease," said Aboderin. "None of this can happen without a mayor that really has his hands on the pulse of what's happening in the city."
Costello added that the tax decrease is real.
"This budget contains no artificial reductions," Costello said. "It's not an election year budget where there's a tax decrease, but it's not sustainable."
City Council President Aaron "Sporty" Randolph and Council Vice President Kaleem Shabazz have both been intensely interested in the process attending every budget meeting.
"This is a good budget, a pure budget, a clean budget," Shabazz said. "We're going to do better things and more things in the future."
Aboderin said that now the challenge is to stay on task.
"The budget is done, and the work begins now," Aboderin said. "We have to manage it and make sure we stay within the budget put forth and accomplish all the things we want to accomplish."
---
Thanks for reading the whole story!
At Atlantic City Focus, we're committed to providing a platform where the diverse voices of our community can be heard, respected, and celebrated. As an independent online news platform, we rely on the support of readers like you to continue delivering quality, community journalism that matters. By donating today, you become a catalyst for change helping to amplify the authentic voices that might otherwise go unheard. And no contribution is too small, $5, even $1 is appreciated. Join us in making a difference—one uplifting story at a time!